Thousands rally for Spanish unity in Madrid (VIDEO, PHOTO)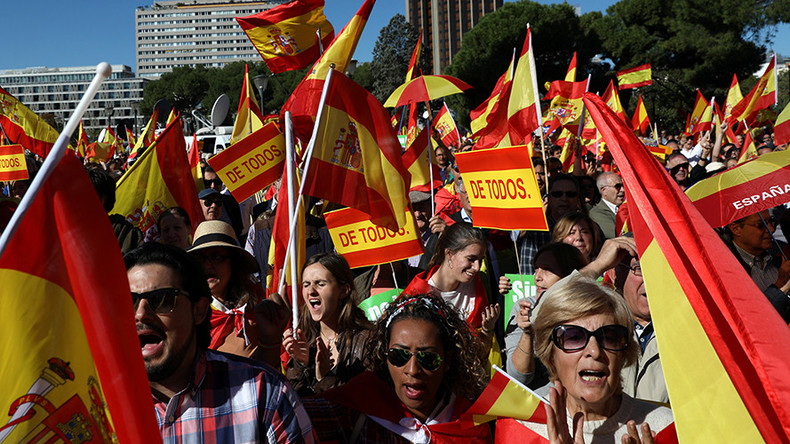 Thousands of people have taken to the streets of Madrid to voice their discontent with Catalonia's unilateral declaration of independence.
"Prison for Puigdemont!" opponents of Catalonia's independence shouted, referring to Catalan leader Carles Puigdemont, whose government was sacked by Madrid on Friday following the region's declaration of independence.
Crowds gathered at the Plaza de Colon in Madrid. They waved Spanish flags and shouted pro-unity slogans such as "Long live Spain!" and "Catalonia is Spain!"
Around 50,000 took part in the demonstration, according to official estimates cited by Spanish media. The organizers put the number at 250,000.

While some protesters expressed support for the actions of the central government – which imposed direct rule over Catalonia, dissolved the regional parliament, and scheduled a snap regional election to take place in two months – others accused Spanish Prime Minister Mariano Rajoy of being "too soft" on secessionists.
The rally was organized by the Foundation for the Defense of the Spanish Nation (DENAES) which describes itself as a civil society organization promoting Spanish unity. It earlier called on people to join the demonstration to show support for the Spanish constitution in the face of "impunity of the coup," referring to Catalonia's declaration.
Speaking at the rally, Santiago Rivas, the president of DENAES, accused the Catalan government of an attempt to "destroy Spain" and "separate" Spaniards from their "Catalan brothers," Spanish state broadcaster RTVE reports. A group of far-right activists also took part in the rally, according to AFP. The demonstration, however, was peaceful and no incidents were reported.
The rally occurred a day after Catalonia declared independence. The announcement was met with loud cheering from thousands of people who gathered outside Catalonia's parliament building. Massive celebrations in Barcelona lasted well into the night.
Shortly after the declaration of independence, the Spanish central government sacked the Catalan government and announced the dissolution of the regional parliament. Rajoy also fired the head of the regional police and all members of Catalonia's foreign affairs department. The Spanish prime minister also announced that a snap election for the regional legislature would be held on December 21.
READ MORE: Crowd in Barcelona erupts in cheering as Catalan parliament declares independence (VIDEO)
On Saturday, Puigdemont said in a televised address he would continue "working to build a free country" despite being fired by Madrid. He called for "democratic opposition to article 155" that allows Madrid to suspend Catalonia's autonomy and impose direct rule.
You can share this story on social media: