Paint it black: Japanese student seeks $20K after school forced her to dye hair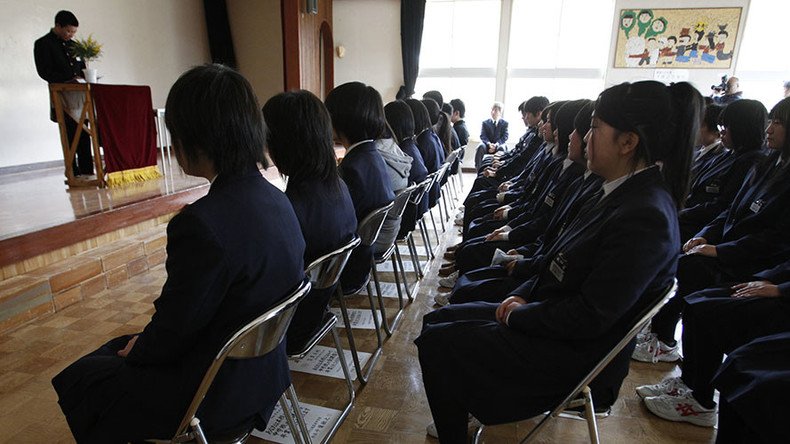 An 18-year-old student has lodged a complaint with a Japanese court after her high school forced her to dye her brown hair black under faculty rules. The girl's repeated attempts at changing her hair color were reportedly not enough for the school.
The teen from Habikino city in Osaka prefecture is suing local authorities over her experience at Kaifukan High School. The school's policy obliges its students to have black hair, according to local media reporting on the first hearing held Friday.
Before entering the school in spring in 2015, the girl's mother contacted the school to inform them her daughter had naturally brownish hair. The school still insisted on the girl dyeing her hair.
The girl's attempts at having the required hair color were never enough for the school, as she was asked to dye her hair again "every four days," according to Tokyo Reporter. The coloring caused pain and irritation on the girl's scalp. Her mother lodged a complaint with the school, but it was dismissed, local media report.
"The dyeing damaged the health of the scalp and hair. [Natural] physical features were negated and mental anguish resulted," Tokyo Reporter quoted the complaint as saying, which described the school policy as "illegal." The student is seeking some 2.2 million yen ($19,300) in damages. The girl stopped attending classes in September 2016. The school reportedly told the girl's mother that "even a blonde-haired foreign exchange student dyed her hair black."
READ MORE: Japan plans new code to combat school bullies
An Osaka prefecture official confirmed to AFP that the first hearing in the case was held on Friday, without giving further comment.While the head of Kaifukan School, Masahiko Takahashi, refused to directly comment on the case to Reuters, he confirmed the school's ban on dyed and bleached hair. He didn't say whether students were forced to color lighter shades of hair to black.
It's not unusual for Japanese schools to impose strict regulations on their students' appearance, from hair to skirt length. In May, the Asahi Shimbun newspaper asked Tokyo high schools whether students with light-colored hair needed to provide proof it was real. Over half - 57 percent - of schools responded positively. The measure is said to prevent students whose hair is not naturally black from being humiliated or disciplined by teachers.
You can share this story on social media: