'Butcher of Pakistan': Hitman-turned-migrant-trafficker accused of killing 70 arrested in Hungary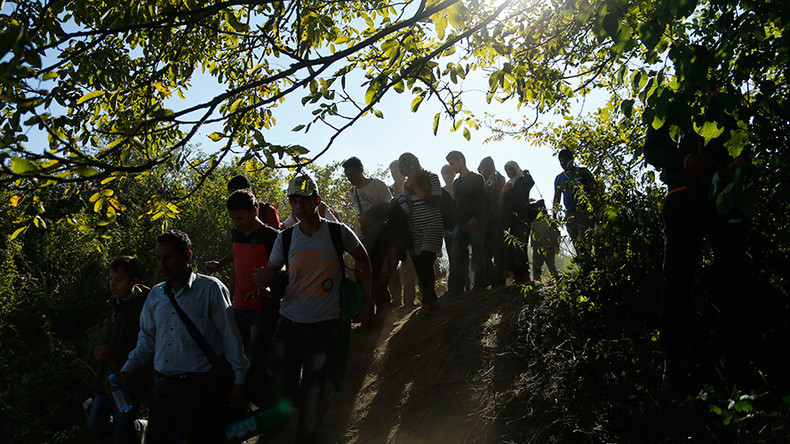 A 35-year-old man accused of killing 70 people in Pakistan has been arrested in Hungary, according to police. The man was captured while traveling with a group of migrants trying to reach Austria.
The suspect is on Pakistan's Most Wanted list and was detained following a tip-off in an international police operation near Boly in southern Hungary, from where he reportedly operated a people-smuggling ring.
The person in question, identified as having the initials A.Z., was detained after being stopped as part of a group of illegal migrants near Hungary's southern border with Serbia Tuesday, police in Hungary's Bacs-Kiskun county said in a statement as cited by Reuters.
Police in neighboring Austria issued a statement saying the arrest had been made after Vienna authorities tipped off Hungary. They declined to identify him because of Austria's data protection rules.
"This case once again shows the importance of international cooperation in combating crime. I can only congratulate the Austrian investigators on this success," said Austria's Interior Minister Wolfgang Sobotka.
Austrian newspapers reported that the suspect was known as the Butcher of Pakistan, but added their country's police had limited knowledge of the details of the crimes committed in his homeland.
"Pakistan has issued an international arrest warrant for murder for (the man) who was then arrested," Hungarian police said, as quoted by AFP. They said the man is being held in Hungary but gave no further details.
According to European Union's border agency Frontex, the Western Balkan route – from Turkey, into Greece, former Yugoslavia, Hungary and onto Switzerland or Austria, then the rest of Europe – was the migrants' preferred way of entering Europe in 2015, with over 760,000 new arrivals. After tighter policing controls were introduced at the end of that year, the numbers dropped sharply to about 120,000 in 2016.
The immigrant issue has nonetheless continued to dominate Austrian politics. Earlier this month, the party of conservative anti-migration politician, 31-year old Sebastian Kurz, won the most votes, paving the way for him to head a coalition of center-right and nationalist parties.
You can share this story on social media: