Afrin's next? Erdogan declares Idlib op largely completed, threatens Syrian Kurdish 'terrorists'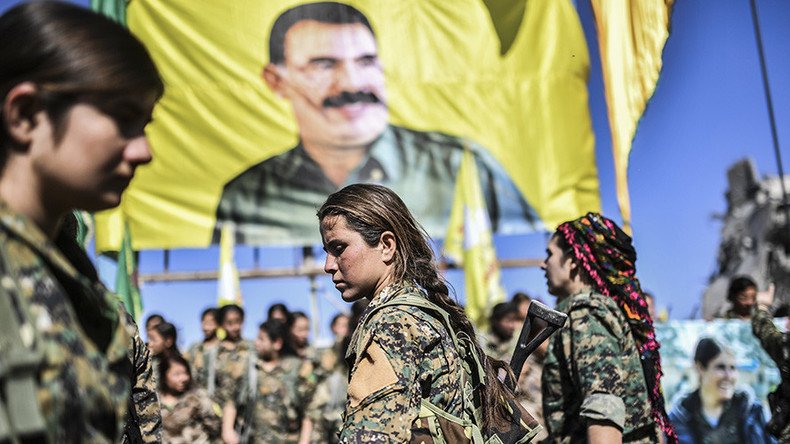 Turkish president Recep Erdogan said Ankara's operation in Syria's Idlib province is largely over, but new military targets could lie ahead, with the Syrian Kurdish forces of northern Aleppo, with an allegedly vast "terrorist" element, possibly in Turkey's crosshairs.
Ankara's campaign in the northwest Syrian province of Idlib, aimed at enforcing the de-escalation zone, has largely achieved its goals, Erdogan said Tuesday, while addressing his ruling Justice and Development (AK) Party's parliamentary group.
"The operation in Idlib was largely completed," Erdogan said. He added, however, that there were other potential military targets in Syria, namely the Kurdish held Syrian region of Afrin, situated in the northwestern part of Aleppo province.
"The Afrin issue lay ahead of us," Erdogan said, reiterating that Turkey sees the Kurdish forces operating in northern Syria as a threat. "We want everyone to know this. We will not make any concessions. We can come suddenly at night. We can suddenly hit at night."
Top Turkish officials have repeatedly voiced threats against the Kurdish People's Protection Units (YPG) and Syrian Democratic forces (SDF), which control large areas in northern Syria. Turkey claims that the Kurdish forces are being infiltrated and strongly influenced by the Kurdistan Worker's Party (PKK). The PKK militant group is recognized by Turkey, the US and a number of other countries as a terrorist group and is credited with a list of terrorist attacks on Turkish soil.
Erdogan accused the US, which provides broad military support to the SDF, of turning a blind eye to PKK activities within the Kurdish forces.
READ MORE: Victory through annihilation: Ruin, death & discord left after US-led coalition takes Raqqa
Such allegations appear to have gained more traction in the aftermath of the capture of Raqqa from Islamic State (IS, formerly ISIS/ISIL), as some Kurdish forces celebrating the victory were seen waving PKK flags. An enormous banner portraying Abdullah Ocalan, the notorious PKK insurgency leader jailed in Turkey, was also unfurled in the ruined central square of Raqqa city.
"They [the US] say 'It's not PKK.' How will America explain that the giant posters of the secessionist terrorists organization are hanging in Raqqa? We did not believe when it was spoken, but it's on TV screens and photos," Erdogan wondered.
He has also harshly criticized the US statement on PKK banners in Raqqa issued by the American Embassy in Ankara. The mission said Washington "works closely" with Turkey in fighting PKK terrorism, adding that Ocalan "is not worthy of respect."
"What kind of remark is that? Does this suit a country like you? Well, you have been the cradle of democracy," Erdogan stated, adding that the US is "only bold enough to issue arrest warrants for my 13 security guards, most of whom have never seen America before."
The Turkish president was referring to the incident which took place in May during his visit to the US. Erdogan's bodyguards were involved in a violent altercation with seemingly peaceful pro-Kurdish protesters outside the house of Turkey's Ambassador to the US, where the Turkish president was staying during a visit to Washington DC. While the arrest warrants against the security agents were issued, all of them managed to return to Turkey.
The incident has, however, put a major strain on already troubled US-Turkey relations and ultimately led to Washington pulling out of a major arms deal in September. The deal would have seen Ankara purchase $1.2 million in weapons for its presidential security guards, including hundreds of semi-automatic handguns and ammunition. The decision was angrily met in Ankara, with Erdogan accusing the US of funneling the said weapons to the Syrian Kurdish "terrorists" instead.
You can share this story on social media: