'I' for 'independence': Catalan ABC spells out sovereignty to children (VIDEO)
While the future of Catalonia – which voted to secede from Spain but could instead be stripped of its autonomy – hangs in the air, young Catalans undecided on the matter now have an alphabet book to explain that 'S' stands for 'Si' as in 'yes' for independence.
"Each letter has an identifiable motive with a sovereign process. The book will bring joy to boys and girls (and adults), bringing them closer to the historical moment we are living in,"reads a synopsis to the 'Alphabet of Independence,' first published in 2014 at the time of an informal vote on secession.
READ MORE: Catalan officials won't follow Madrid's orders, but will of the people – region's spokesman
Under a colorful cover featuring three children clad in the region's flag, the book is 24 pages, each having a term related to independence and Catalan culture. The ABC starts with "Assemblea Nacional Catalana" (Catalan National Assembly), a pro-independence organization.
The letter D is "dret a decidir," or "right to decide." While L is for liberty, N stands for new European state. Meanwhile, the alphabet is intended for children as young as four.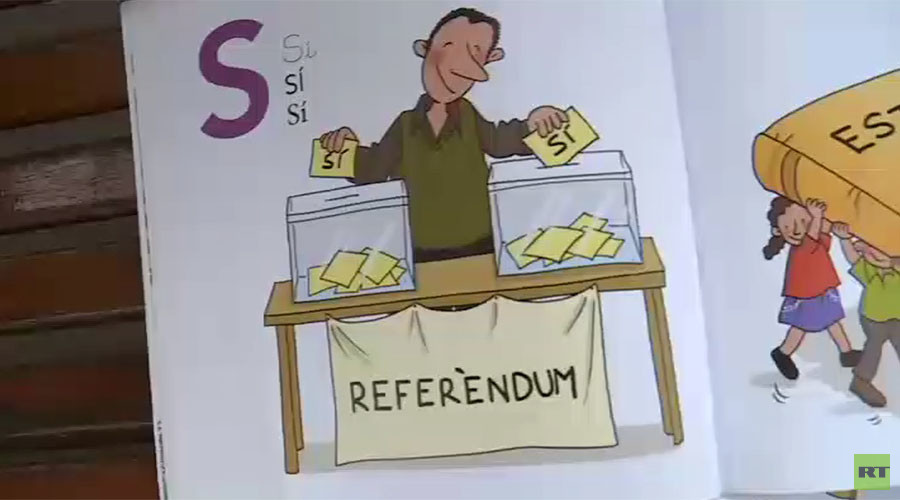 RT correspondent ventured out to the streets of Barcelona to see whether the Catalan ABC has become a hit among young parents, given the drama unfolding between the central government and regional authorities following the October 1 referendum.
READ MORE: Catalonia's pro-independence alliance vows to challenge Madrid's 'dictatorship'
"I think they [children] don't have to learn about politics now. They're definitely too small. They will have time to learn about it, but maybe in ten years, not now," a woman said, adding that she certainly won't give the alphabet to her children.
While another one considered that her daughter might be interested, she said it was "a bit simple" since it "doesn't properly explain things."
"At this stage children don't have the ability to form their opinion properly. They believe what we tell them," another parent said. "I want them to decide for themselves," she said, echoed by another woman.