Catalan officials won't follow Madrid's orders, but will of the people – region's spokesman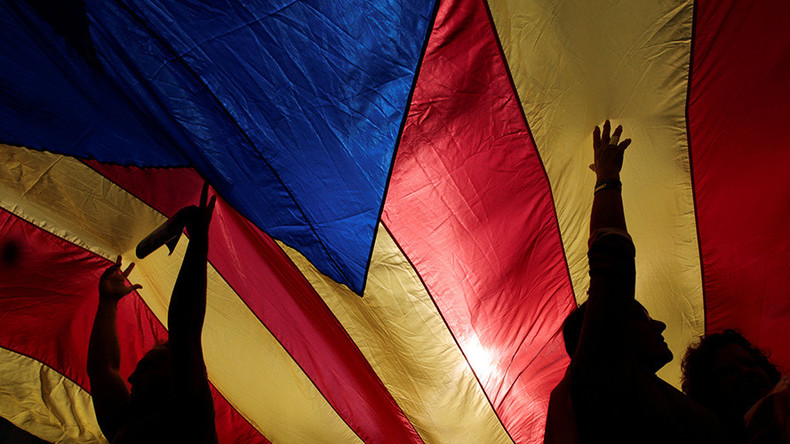 Catalan authorities will not follow orders from Madrid, but will only listen to the will of the Catalan people, Catalonia's Foreign Affairs spokesman told BBC Radio.
All institutions, including police, need to follow instructions from the democratically-elected Catalan government, the region's foreign affairs spokesman, Raul Romeva, told BBC radio.
According to the official, EU democracy cannot be trusted if it allows Madrid to impose direct rule on Catalonia.
READ MORE: Catalan leader: Madrid's steps toward direct rule are 'worst attacks' since Franco's dictatorship
"How can the European Union live with that situation if it appears?" he said. "How can they be credible if they allow this to happen? Because what I can tell you is that the people and the institutions in Catalonia would not let this… happen."
In the meantime, Spanish Deputy Prime Minister Soraya Sáenz de Santamaría said that Madrid has not had any contact with the Catalan regional government since Saturday, Reuters reported. The Spanish government may choose a single representative to temporarily govern Catalonia, she added.
Catalan leader Carles Puigdemont will lose his powers and no longer receive a state salary if the Senate approves direct intervention, Santamaría said. The Senate is expected to approve the measures against Catalonia on Friday, she added.
Catalonia's parliament will gather for a plenary session on Thursday morning to decide the region's response to Madrid, a spokesman for the regional Junts pel Si party said, as cited by Reuters.
The European Commission said it supports Madrid's decision to invoke special constitutional powers to dissolve the government of Catalonia and force a new election.
"The position is well known. We've always said we respect the constitutional and legal arrangement of Spain," Margaritis Schinas, the EC chief's spokesperson, said at a press briefing on Monday.
Catalonia's vote on independence was held October 1, despite Madrid calling the referendum "unconstitutional." Thousands of extra officers from the National Police and Civil Guard were deployed in the region ahead of the vote. The police crackdown during the referendum resulted in over 800 injured across the region, according to Catalonia's Health Department.
On Saturday, Spanish Prime Minister Mariano Rajoy said that Madrid wants to dissolve the Catalan parliament and call a snap election in order to restore order in the region. He requested the Senate authorize the move to dissolve the Catalan government. According to Rajoy, central government ministers will assume the powers of Catalonia's officials.
READ MORE: 'Fake pics, limited use of force': Spanish FM downplays police violence during Catalonia vote
Puigdemont slammed Madrid's move, comparing the imposition of direct rule on Barcelona "the worst attack against the institutions and the people of Catalonia since the military dictatorship of Francisco Franco."