Hawks over Black Sea: US spy drones & planes flew close to Russia's Crimea over 100 times in 2017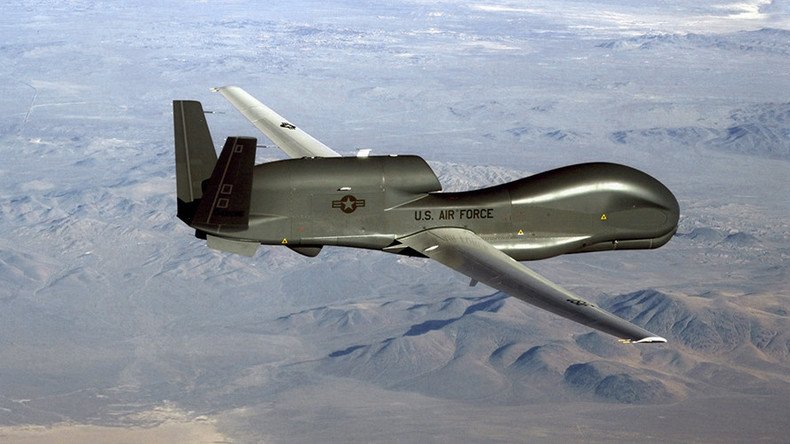 Various American military aircraft, primarily Global Hawk drones, have conducted over 100 reconnaissance missions over the Black Sea this year. Some flew as close as 10km (6 miles) to the Russian border, a high-ranking regional army official announced.
The Global Hawk unmanned aerial vehicles (UAV), as well as large US military reconnaissance aircraft RC-135 and P-8 Poseidon are engaged in frequent missions near Crimea from NATO bases in Sigonella, Italy, and Souda, Greece, Lieutenant General Viktor Sevostyanov told TASS.
While the main US surveillance routes lie alongside the Black Sea coast of the Crimean Peninsula, the commander in charge of Russia's Southern Air Force pointed out that the American aircraft fly only some 10-15km away from the border.
No airspace violations have been registered, but with US missions being conducted in the service area of the Russian military, Russian Air Force fighter jets have conducted over 100 sorties to accompany the US aircraft.
More than 70 percent of those flights were to accompany the US drones, the official added, saying that such sorties only help the Russian military practice its escort and interception skills.
"It is obvious that their [US] main task is to strategically identify any changes in the [Russian] Southern military region forces," Sevostyanov told TASS, adding that he also doesn't exclude possibility that the US reconnaissance is "interested in the progress of the Crimea Bridge construction."
The massive project is underway to connect the Crimean Peninsula to mainland Russia.
The Russian Air Force in the southern region is the most modern in the country, the lieutenant general said. Its forces are equipped with the newest Su-type fighter jets and Mi-type helicopters, with Russia's brand-new S-400 air defense systems to be added to the regional forces at the beginning of 2018.
You can share this story on social media: