Ukrainian president's fake news: Holocaust-twisting tweet still online after 4 days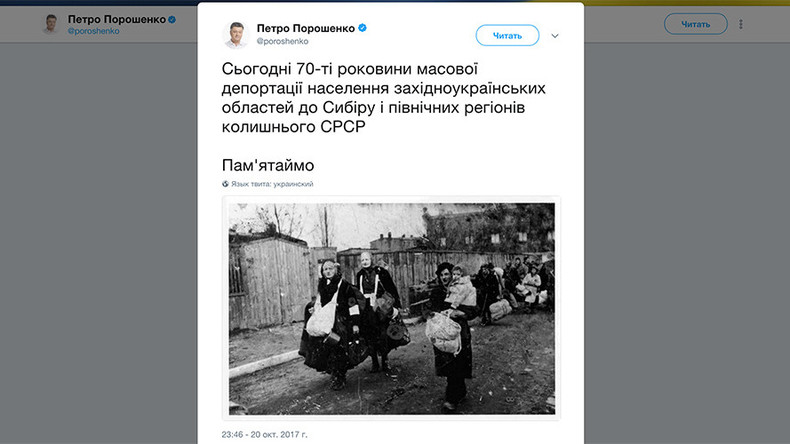 Ukrainian president Petro Poroshenko sparked a backlash online after tweeting an image of Jews being deported to an extermination camp – in a post to mark the anniversary of the deportation of Ukrainians to Siberia.
Poroshenko was hoping to remind the world of the USSR's forced evacuation of Western Ukrainians to Siberia in 1947. However, he used a photograph taken five years earlier in the Jewish ghetto of Lodz in Poland.
In the four days since a serving president posted fake content online pertaining to a Nazi war crime none of the usual self-appointed fact-checking outlets have challenged its veracity.
Сьогодні 70-ті роковини масової депортації населення західноукраїнських областей до Сибіру і північних регіонів колишнього СРСРПам'ятаймо pic.twitter.com/PtoFa1DJzR

— Петро Порошенко (@poroshenko) October 21, 2017
The fail was quickly noted by eagle-eyed Twitter users, who mocked the Ukrainian leader for posting "fake news."
In a Facebook post on Tuesday, Eduard Dolinsky, head of the Ukrainian Jewish Committee, described Poroshenko's tweet as "strange."
The image Poroshenko shared on Friday is a well-known image, dated from around 1942. It shows a group of Jews in the Polish ghetto carrying children and their belongings as they're about to be deported to the Chelmno extermination camp.
"Elderly women carrying young children and bundles of personal belongings trudge along a street in the Lodz ghetto toward the assembly point for deportations to Chelmno," the image's caption reads on the United States Holocaust Memorial Museum website. The photograph is sourced from the Muzeum Sztuki w Lodzi.
This pic of Jews going to Nazi gas ovens in Lodz Poland has nothing to do with @poroshenko tweet https://t.co/AUEGP40n23

— Andrey Davydov (@FarEasterner) October 24, 2017
I actually sent him a message first hour he published this picture. Watched him for two days - no reaction. Therefore it was intentional.

— Andorra (@Andor_2001) October 24, 2017
"Today is the 70th anniversary of the mass deportation of the population of Western Ukraine regions to Siberia and Northern regions of the former Soviet Union, which bore the code name 'West'," Poroshenko wrote on Facebook. "In just one day, 76,000 people were forced to move, and the aim was to weaken the Ukrainian liberation movement."
Poroshenko's error is also seen as significant as Ukraine has been accused of having ties to Nazism. In 2015, it passed a law to honor the Organization of Ukrainian Nationalists and the Ukrainian Insurgent Army (UPA), which was responsible for the slaughter of Poles and Jews during the war, Reuters reports. The group is also seen as playing a role in Ukraine's fight for independence in the 1950s.
READ MORE: Ukraine opens monument to nationalist icon Petliura responsible for anti-Jewish pogroms
Local authorities voted to rename a Kiev street after anti-Semite Roman Shukhevych, who collaborated with the Nazis, Reuters reports.