Fukushima victims appeal $1,500 compensation payouts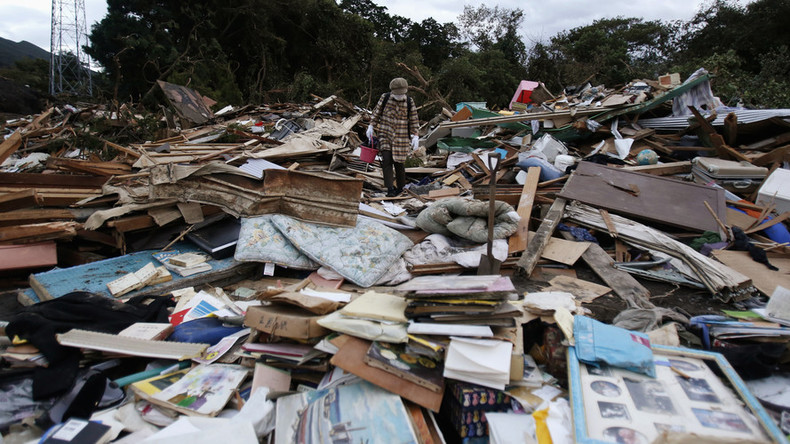 Hundreds of victims of Japan's 2011 nuclear disaster have appealed a court ruling hoping to secure larger compensation payouts, after being awarded roughly $1,520 each in a class action lawsuit against the Japanese government and the Fukushima plant operator.
On October 10, Fukushima District Court has ordered the Japanese government and the Tokyo Electric Power Company (TEPCO) to pay about 500 million yen ($4.44 million) to some 2,900 victims of the 2011 Fukushima nuclear meltdown.
In its ruling on the lawsuit, filed by more than 3,800 plaintiffs, the court said that the authorities had failed to properly control TEPCO, which was found guilty of neglecting to adopt the necessary safety measures despite knowing of the risk of a massive tsunami in the region as early as 2002.
On Monday, all sides in the case – TEPCO, the government and the victims represented in the class-action lawsuit – challenged the court's ruling.
Victims of the disaster say that the awarded liability costs do not represent the true amount of suffering reflected by the Fukushima survivors. The court failed to award 200,000 yen ($1,765) per person, which was the sum originally sought by the plaintiffs. The legal team furthermore stressed that in the initial ruling the court rejected claims by some of the victims, which mostly came from western Fukushima prefecture.
The Fukushima District Court ruling "clearly acknowledged the liability of the government" over the 2011 Fukushima disaster, but the "level and scope of compensation is insufficient," Izutaro Managi, a lawyer for the plaintiffs, said Monday after filing an appeal with the Sendai High Court.
"We will seek compensation that better matches the actual damage," Managi added, as quoted by Japan Times.
Japan's central government and TEPCO meanwhile also filed an appeal with the Sendai High Court, claiming that they are not liable to pay any damages to the victims, Japan Today reported.
In its appeal, Japan's Nuclear Regulatory Agency stressed that "it is impossible for the government to accept the court's judgment as a result of an adjustment by relevant ministries and agencies."
The October 10 court ruling was the second time a court in Japan has acknowledged the government's liability for the Fukushima meltdown caused by the quake-triggered tsunami that hit the country in March 2011.
In March this year, Maebashi district court ordered the government and the operator to pay 38.55 million yen ($340,000) in damages to 62 plaintiffs who were evacuated to Gunma Prefecture. About 30 similar lawsuits involving 12,000 people are pending across the country.
You can share this story on social media: