Einstein's other theory (about happiness) to be sold at auction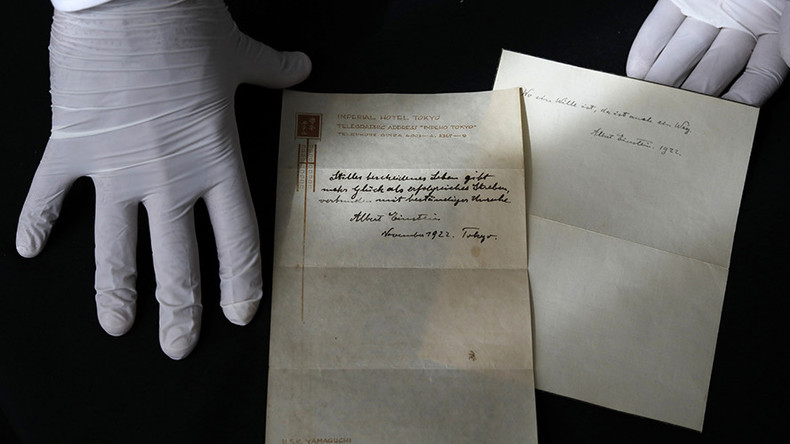 A note written by Albert Einstein describing his theory on happy living has surfaced after 95 years and is up for auction in Jerusalem.
The note, given to a courier in Tokyo in 1922 during a lecture tour of Japan, was written shortly after the German-born physicist learned that he was to receive a Nobel Prize for his theory of relativity.
The story goes that a Japanese courier delivered Einstein a message at the Imperial Hotel in Tokyo. The courier then either refused to accept a tip, in line with local practice, or Einstein had no small change to hand, so offered him two handwritten notes.
Now a descendant of the messenger is selling the notes at auction to the highest bidder.
"Maybe if you're lucky those notes will become much more valuable than just a regular tip," said Einstein to the messenger, according to the anonymous seller, reports AFP.
One of the notes, on a piece of Imperial Hotel Tokyo stationery, says: "A quiet and modest life brings more joy than a pursuit of success bound with constant unrest."
The other, on a blank piece of paper, reads simply: "Where there's a will, there's a way."
The notes hold no scientific value, however they could reflect a relatively unknown aspect of Einstein's psyche, his emotional thinking.
READ MORE: 11yo British boy has a higher IQ than Albert Einstein & Stephen Hawking
"What we're doing here is painting the portrait of Einstein - the man, the scientist, his effect on the world - through his writings," said Roni Grosz, the archivist in charge of the world's largest Einstein collection, at Jerusalem's Hebrew University.

"This is a stone in the mosaic," Grosz added