'50-mile eye': Typhoon Lan to strike Japan with intense wind & rain (PHOTOS, VIDEO)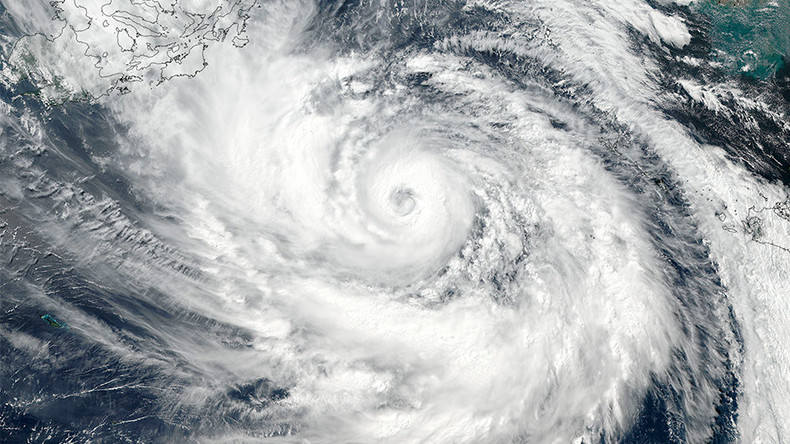 Typhoon Lan, a storm with an eye 50 miles wide, is expected to lash parts of Japan with intense wind and rain, the country's meteorological office has warned. Currently west of Okinawa, the typhoon is travelling north towards mainland Japan.
According to forecasts by the Japan Meteorological Agency, the "large" storm will barrel across the nation on Sunday before subsiding on October 23.
NASA imagery reveals the huge scale of the typhoon, with pictures taken by the Suomi NPP satellite revealing powerful thunderstorms swirling around an eye 50 nautical miles in diameter.
The US space agency stated that on October 20, Lan's wind speed reached a whopping 115 miles per hour. It clarified in a later tweet that the weather system has not been designated a "super storm".
We deleted our last tweet, which incorrectly labeled #TyphoonLan as a super typhoon. Our apologies for the error.

— NASA SPoRT (@NASA_SPoRT) October 20, 2017
Extreme rainfall, described as "walls" of precipitation, were 3-D mapped by the Goddard Space Flight Center in Maryland earlier this week.
A number of Japan's prefectures have been put on high alert for extreme gales and strong coastal waves. The US Joint Typhoon Warning Center is predicting that the storm's threat will decrease gradually over the next 6 to 12 hours.
The agency said a "short wave trough" of pressure in the coming hours will begin the "gradual weakening trend" of Typhoon Lan.