Anti-fascists protest new office of Greek far-right Golden Dawn (VIDEO)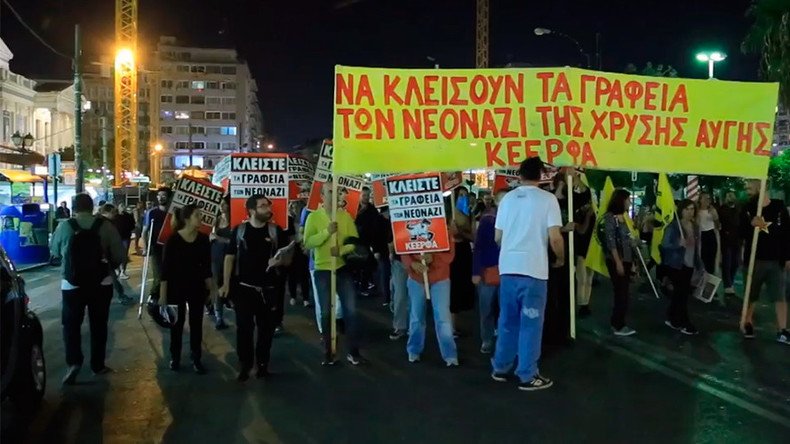 Anti-fascist demonstrators gathered at the offices of the Greek far-right party Golden Dawn to protest the opening of its new premises in the port city of Piraeus.
Speaking at the demonstration Friday, Magda Fyssa, the mother of Pavlos Fyssas, a local 34-year-old anti-fascist rapper who died after being stabbed to death by a member of Golden Dawn in 2013, labelled the opening of the offices a "provocation."
"We are here to close those offices, because they shouldn't exist, especially in Piraeus. We take to the street and fight," she said.
READ MORE: Petrol bombs & tear gas in Athens at anniversary of Antifa rapper's murder (VIDEO)
Following the murder of Pavlos Fyssas, police arrested the party's leader, Nikolaos Michaloliakos, as well as several of its sitting MPs on suspicion of forming a criminal organization. The trial, which began in 2015, is still ongoing.
Tens of thousands of migrants have arrived in Piraeus in recent years, sleeping in tents or just blankets in open air encampments with poor sanitation and little food. Migrants have also become the targets of violent attacks by groups linked to Golden Dawn.
Earlier this month, two Pakistani immigrants were assaulted by a gang of five men hurling racist abuse in the town of Aspropygos, near Piraeus, according to Greek newspaper Kathimerini. The Greek Communist Party later accused Golden Dawn of involvement in the attack.
READ MORE: Right-wing extremists accused of attack on Greek refugee camp with petrol bombs, boulders (PHOTOS)
In 2016, eyewitnesses reported seeing some 60 members of Golden Dawn hurling boulders and molotov cocktails during an attack on a makeshift migrant camp on the Greek island of Chios.
The attack came several days after members of the right-wing Golden Dawn party held a rally on the island, calling for the refuges to be deported. "Of course Golden Dawn supporters are suspected to have participated," Manolis Vournous, the mayor of the town, told the Guardian at the time.
Golden Dawn finished third in the country's national elections in 2015, earning 18 seats in the Hellenic Parliament.
Some members of the public have hit back against its increased popularity, however. In March, young men wielding sledgehammers attacked its headquarters in Athens, smashing glass and throwing red paint at the entrance of the building.
You can share this story on social media: