Mig-29 jets price sky in joint Russian-Serbian drills (VIDEO)
Published time: 20 Oct, 2017 19:18
Edited time: 2 Mar, 2018 11:41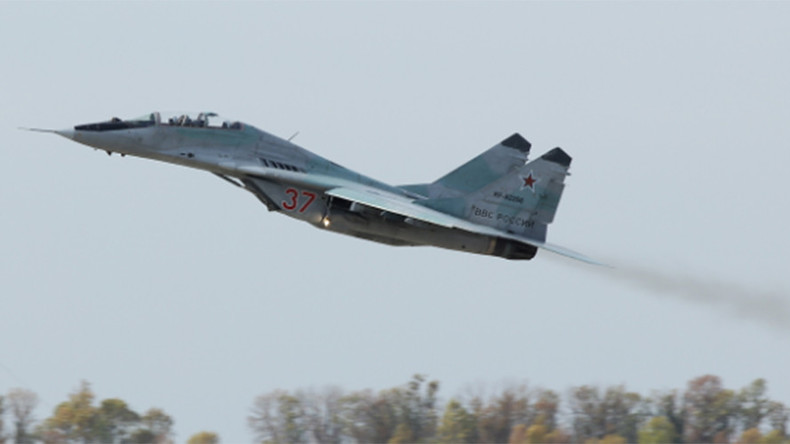 Russian and Serbian MIg-29 jet fighters have worked out aerial combat and bomb attacks in spectacular video from joint BARS-2017 drills, released by Russia's Defense Ministry.
The aerial tactical exercise is taking place near the city of Voronezh in central Russia as military pilots from the two countries are training together for the third year in a row.
The BARS-2017 (Brotherhood of Aviators of Russia and Serbia) drills, which involve Mig-29s and Mi-8 helicopters, will go on until the end of the week.
Also on Friday, Russia officially handed over six Russian MiG-29 fighter jets to Serbia as part of a military aid package to Belgrade.
The ceremony at the Batajnica Air Base on the outskirts of Serbian capital, Belgrade, was attended by Russia's Defense Minister, Sergey Shoigu, and Serbian President Aleksandar Vucic.
Vucic thanked Moscow for strengthening Serbia's defense capabilities and presented Shoigu with six daggers, which had board numbers of Russian jets engraved on them.
"Thank you very much, for this beautiful gift, which Serbia has received. I hope that cooperation between Serbia bad Russia will continue developing in the future," the President said as cited by Tass.
Shoigu on his part noted that the jets would help Serbia to preserve its sovereignty. The military aid package to Serbia was announced in late 2016 and included six MiG-29s, as well as 30 T-72S and 30 BRDM-2 armored vehicles, which Belgrade receives free of charge.