Police clash with protesters camped outside Ukrainian parliament (VIDEOS)
Published time: 18 Oct, 2017 16:35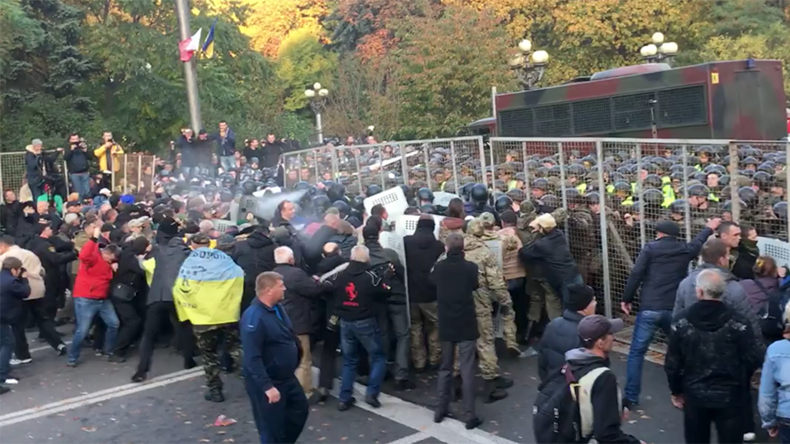 Ukrainian riot police have tried to enter a Maidan-style protester camp in Kiev, leading to clashes with tear gas being reportedly deployed at the scene. At least 11 people were detained.
READ MORE: Artillery, clashes & tents: Bizarre scenes in Kiev amid mass protest outside Ukrainian parliament
The clashes erupted near the parliament building in Kiev on Wednesday, where a protest camp had been set up a day earlier.
Videos from the scene show riot police battling protesters, many of whom are dressed in military-style clothing and carrying police riot shields. The police can be seen spraying the protesters with some substance, which local media said was tear gas.
The altercation between the police and protesters reportedly began when law enforcement tried to move in and confiscate the riot shields. The shields had been previously "stolen," and the police had to act to get its equipment back, the chief of Kiev police told 112 Ukraine TV channel.
Following the scuffle at least 11 people were detained, RIA Novosti reported citing Kiev police.
The ongoing protest was called for by the fugitive ex-President of Georgia and former governor of Odessa Mikhail Saakashvili, who was stripped of his Ukrainian citizenship by President Petro Poroshenko.
READ MORE: Ukraine police open criminal case after former Georgian leader Saakashvili breaks through border
Early in September Saakashvili forced his way across the Ukrainian border with the help of his supporters, who prevented border guards from capturing the stateless politician. A criminal investigation into the incident was launched and Saakashvili was fined $130 for his illegal border crossing.