Russian performance artist who set fire to French bank placed in psychiatric facility – source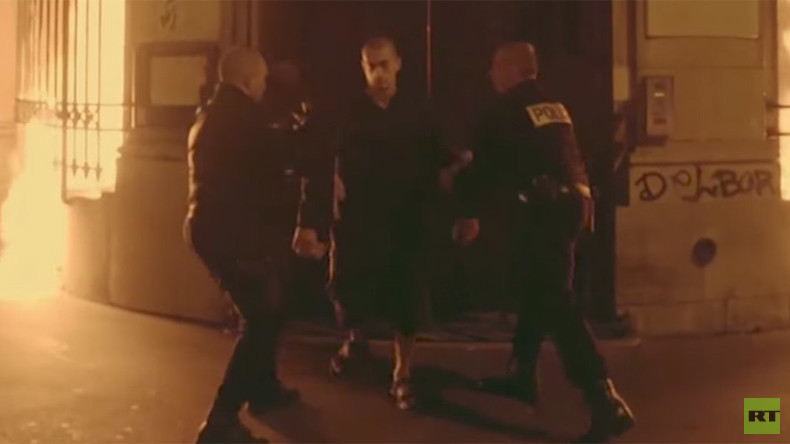 Controversial Russian performance artist Pyotr Pavlensky was placed in a police psychiatric unit following his latest stunt, in which he set fire to the door of a bank in Paris, a judicial source told RT France.
READ MORE: Pyromaniac artist who nailed scrotum to Red Square sets Bank of France entrance ablaze
Pavlensky, 33, was arrested for causing damage by arson on Sunday night, alongside his wife Oksana Shalygina, who remains in custody, according to the source. In a statement posted through the social media account of fellow performance artist Inna Shevchenko of FEMEN after the event, Pavlensky said that the "the bankers have taken the place of the monarchs" and promised that the gesture would signal "the revival of revolutionary France, and fuel the fire of world revolution."
In 2014, Pavlensky, already battling accusations of mental illness, publicly cut off his earlobe a la Van Gogh, while sitting atop a mental health hospital in Moscow, in a symbolic protest against "repressive psychiatry" - the designation of political dissidents as mentally ill, and subsequent placement in psychiatric facilities. Afterwards, he was assessed and declared mentally competent.
The artist fled Russia earlier this year, following sexual assault allegations, alongside his wife. His previous performances included nailing his scrotum to Red Square in 2013, in protest against political indifference, and setting fire to the door of the Lubyanka Building, which houses the Federal Security Service (FSB). He has been a frequent critic of the Kremlin and claimed that the legal case against him was politically motivated.
The couple was granted French asylum in May this year, and told the media that they survive by squatting and shoplifting, "living the same life as most French people."