Spain's Constitutional Court declares Catalan referendum law void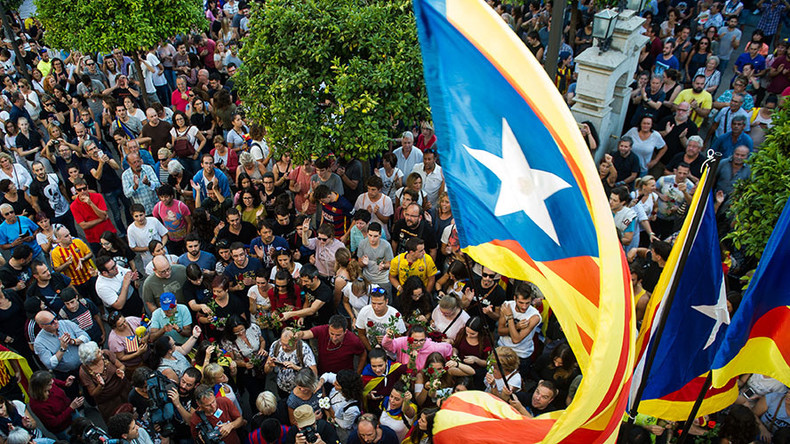 The Spanish Constitutional Court has unanimously annulled the Catalan Referendum Law, approved by the region's government ahead of the recent independence vote, according to a court spokesman.
The Catalan government responded immediately, with spokesman Jordi Turull saying the decision was "fast," while "the mandate of the referendum continues."
The court ruled "the law encroached state powers regarding popular consultations," and that it "violated, among other constitutional principles, the supremacy of the Constitution, national sovereignty and the indissoluble unity of the Spanish nation," El Pais quoted the decision as saying.
In September, the court suspended the legislation while studying its legality. On Monday, two leaders of pro-independence groups were detained in prison without bail as part of an investigation into alleged sedition. Jordi Sanchez and Jordi Cuixart from the National Catalan Assembly (ANC) and Òmnium, respectively, have been jailed on suspicion of organizing protests ahead of the vote.
READ MORE: Catalan separatist leaders detained amid sedition investigation
Their detention, though, is said to be a judicial matter, not a political one, according to Spanish Justice Minister Rafael Catala. The Catalan government reacted angrily, calling it "another episode of democratic disgrace."
Spain jails Catalonia's civil society leaders for organising peaceful demonstrations. Sadly, we have political prisoners again

— Carles Puigdemont (@KRLS) October 16, 2017
The investigation will look into the suspected role of Sanchez and Cuixart in staging the protests on September 20 and 21, which saw thousands of demonstrators taking to the streets and impeding the searches of government buildings, according to the judge.
Read more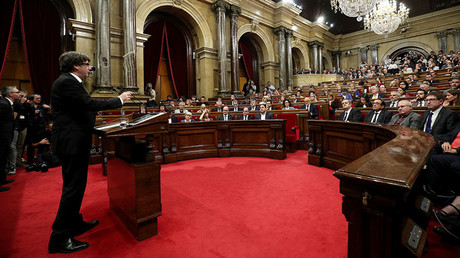 Meanwhile, the High Court took away the passport of Catalonia's Mossos police chief, Josep Lluis Trapero, who is being investigated for the same offense. Trapero's forces are accused of failing to help national police officers who were blocked inside a building in Barcelona by protesters.
Following the vote on October 1, Catalan leader Carles Puigedemont signed a declaration of independence but suspended it to facilitate a dialogue with Madrid.
The central government demanded that the region clarify whether it had declared a breakaway, giving it a deadline until Thursday for Puigdemont to say "yes" or "no."
The reply it gave on Monday was deemed "not valid" by Madrid, threatening to suspend Catalonia's autonomy under Article 155. However, the Catalan authorities remain adamant and say they "won't give anything different" on Thursday.
Banned by the Constitutional Court, the referendum saw an overwhelming majority of those who turned out to vote cast their ballots in favor of secession from Madrid.