100 years since execution: Mata Hari will live-tweet her last day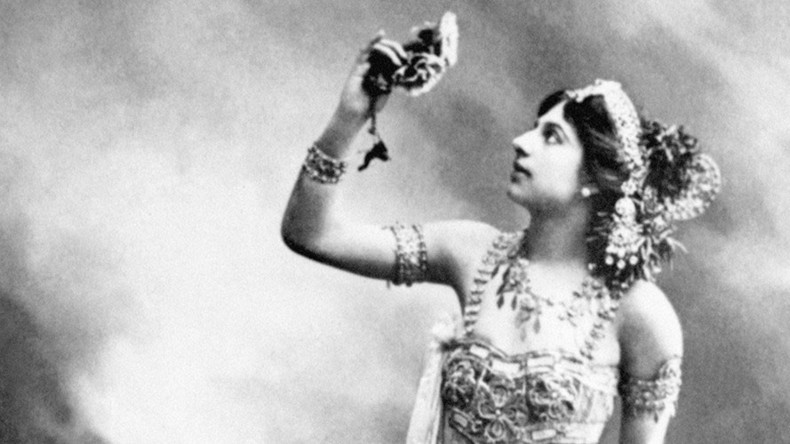 On October 15, Mata Hari, the exotic dancer accused of being a German spy, will live-tweet her final hours, as 100 years ago to the day the famous femme fatale refused to cover her eyes when a French firing squad executed her for being a double agent.
Hari's account has been curated by renowned author Paulo Coelho, who wrote 'The Spy', her fictionalized biography, back in 2016.
READ MORE: Paulo Coelho brings last days of Mata Hari to #1917LIVE Twitter
Coelho joined RT's #1917LIVE community - the real-time Twitter-only retelling of the Russian Revolution - in September this year.
In order to bring the mysterious character to life the writer accessed MI5 archives, which he shared with the #1917LIVE team.
To this day historians still argue who Margaretha Geertruida Zelle – aka Mata Hari – was: a seductress who used her sexuality to manipulate her lovers or merely a naive woman in the hands of very powerful men.
Dutch by origin, the future lady vamp spent much time in the Dutch East Indies (now Indonesia) with her alcoholic and abusive husband. There she revealed her artistic name of Mata Hari (literarily translated from Malay as 'Eye of the day').
Later, back in Paris, she started performing as an exotic dancer and led a bohemian lifestyle. At that time she was accused by the French of working as a spy for Germany during World War I and arrested. The French presented her as a lethal double agent who used her feminine powers to acquire military secrets from her many lovers. Some historians believe that Mata Hari was betrayed by the Germans.
#1917LIVE brings together an international community of historians, Russophiles, students, professors and roleplay enthusiasts to employ Twitter's unique capacity for real-time storytelling.