N. Korea threatens Guam with 'salvo of missiles' as US gears up for drills with Seoul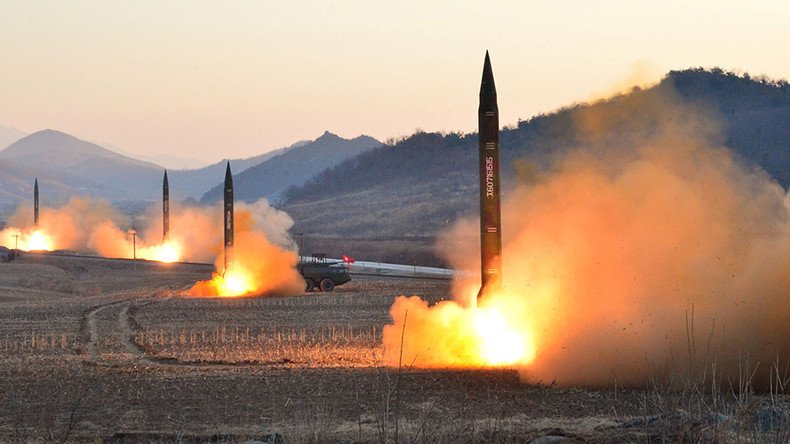 In a new incendiary statement, Pyongyang promised to fire "a salvo of missiles" at the US territory of Guam, and keep its hands "closer to trigger" amid major US-South Korea drills involving B-1 bombers and a carrier strike group.
As Washington and its Asia-Pacific allies prepare for a joint maritime exercise, the North Korean government issued new threats to target the US territory of Guam. The upcoming war games, which involve the USS Ronald Reagan aircraft carrier, are set to begin on Monday off the shores of South Korea.
An op-ed published by Pyongyang's KCNA state news agency said: "We have already warned several times that we will take counteractions for self-defense including a salvo of missiles into waters near the US territory of Guam, an advance base for invading the DPRK, where key US bases are located."
"The US military action hardens our determination that the US should be tamed with fire and lets us take our hand closer to 'trigger' for taking the toughest countermeasure," Kim Kwang Hak, a researcher at the Institute for American Studies of North Korea's Foreign Ministry, said in the op-ed.
Pyongyang's statement comes as the US deploys additional navy warships to South Korea's ports. Earlier, the USS Michigan nuclear-capable Ohio-class submarine moored in the South Korean port of Busan, according to the US 7th Fleet.
Next week, the USS Stethem and USS Mustin Arleigh Burke-class guided missile destroyers and the USS Ronald Reagan are expected to join the naval drill scheduled for October 16 to 26 in the Sea of Japan and the Yellow Sea to hone "communications, interoperability, and partnership," the statement added.
KCNA's statement also came on the heels of a flyby of two US Air Force B-1B Lancer strategic bombers over the Korean Peninsula in a show of force on Tuesday night.
Two B-1Bs took off from Guam and traveled in the vicinity of the Sea of Japan, staging an aerial exercise with Japanese and South Korean combat aircraft in the middle of the night.
READ MORE: US nuke sub arrives in South Korean port amid tensions on peninsula
US President Donald Trump and North Korean leader Kim Jong-un have exchanged personal insults over the past few months, adding fuel to the mounting tensions. Earlier in September, Trump called Kim "a madman" and "Little Rocket Man," saying the North Korean leadership "won't be around much longer."
North Korea called Trump a "mentally deranged dotard" and "an old psychopath."
Following a meeting with top US military brass at the White House last week, Trump made headlines with a mysterious comment: "This is the calm before the storm." He later explained the remark was in reference to potential action against Pyongyang.
You can share this story on social media: