'It's probably intentional': Tech expert to RT on Google smart speaker's eavesdropping glitch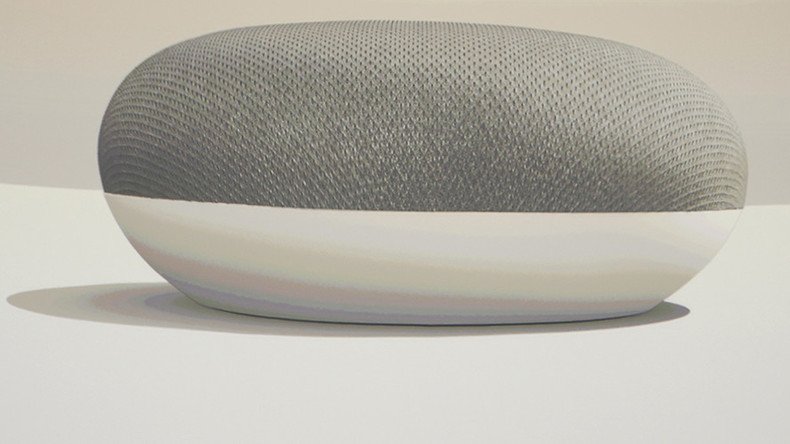 A Google Home Mini feature which allowed the smart speaker to secretly record conversations was probably intentional, technology entrepreneur Chris Kitze told RT, adding that such security problems are happening "all the time" with tech giants.
"It's always possible that the company did miss this, but it's unlikely," Kitze, who specializes in financial and internet privacy, said.
His comments came after Android Police journalist Artem Russakovskii revealed that his Google Home Mini had been quietly recording thousands of audio files without his knowledge, all of which were available for playback.
Google responded by saying that the issue had been found in a "small number" of devices. The company said that the problem was caused by the speaker's touch mechanism, which had been designed to allow owners to activate Google Assistant and control music by tapping the top of the speaker. However, some of the devices were registering touches when no one was there, prompting it to begin recording.
The tech giant said that it had since "decided to permanently remove all top touch functionality" on the product, adding that it takes user privacy "very seriously."
However, Kitze still isn't convinced the glitch was an accident. He told RT that he believes the move was intentional because such security issues seem to happen "all the time."
"If something happens once in a while then it's probably unintentional. If it keeps happening, then it's intentional...there's a reason why it happens...it's a pattern of behavior and you start to notice that it is an actual plan to put this kind of feature into a product..."
Kitze went on to state that there is a "history" of such issues happening with products from Facebook, Apple, and Google; because "they're basically part and parcel of the deep state in the US."
"They intentionally leave things open sometimes; sometimes they get caught, like in this case."
Despite the track records of such companies, Kitze noted that "most people just don't care about their privacy," even though they should be "very concerned."
"I think that most people say, 'Well, I have nothing to hide.' Well, that's true...most people are law abiding and they're not trying to do anything that's bad, but keep in mind the real problem with these things is that when professional criminals get a hold of these things and they find out a way to get into these devices."
Kitze explained that those "professional criminals" could find a way to get into a device and overhear its owner talking about their bank account or passwords.
"Or they use it as an exploitive way to get into your computer to steal your info or install something that can do key logging and then they can get your passwords and accounts, they can steal your bitcoins."
"All these kinds of things are possible. So really what you're talking about is a fundamental computer security problem. And that's what people should be concerned with," Kitze said.
Powered by Google Assistant, the Home Mini is designed to provide "hands-free help around the house," allowing users to issue commands with their voices, which the device is programmed to recognize.
You can share this story on social media: