Want to be a Russian governor? Jump off a cliff (VIDEO)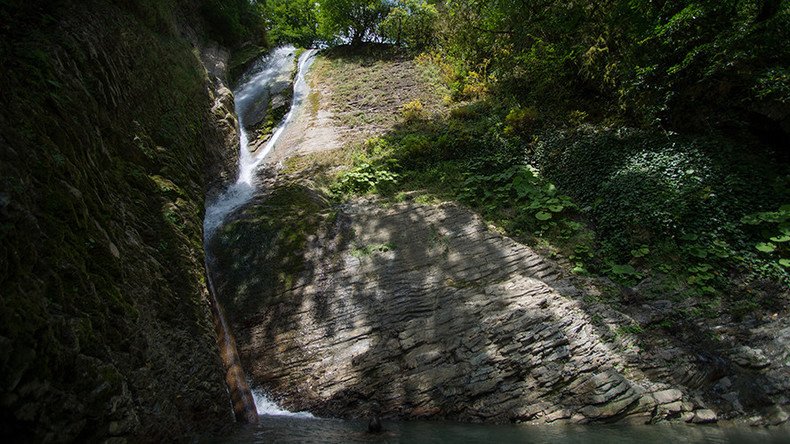 If you really want to be a governor in Russia, it appears you have to be ready to jump off a cliff to prove your courage and commitment. Footage of a stunt from the new training program for high-ranking Russian officials has surfaced online.
Prospective Russian governors exhibited their iron will by diving into the water from a seven-meter-high (23ft) cliff in Sochi in early October.
"It was good teambuilding," Sergey Kiriyenko, first deputy head of the Presidential Administration, said of the stunt, as cited by Gazeta.ru.
Cliff jumping was part of the 'canyoning' program included in the Russian government's nine-month training program for top regional officials.
Canyoning is an extreme discipline which sees the participants traversing canyons without the help of special floating devices.
"The trainees descended the mountain river, overcoming various obstacles, with jumping off a cliff among them…. It was a test of people's behavior in stressful situations," the press service of the Russian Presidential Academy of National Economy and Public Administration, which was among the organizers of the training program, told RIA-Novosti.
According to Gazeta.ru, jumping of the cliff wasn't obligatory, with some of the officials missing out on the Sochi stage of the training program due to their work schedule.
News outlet RBC has identified the head of the Federal Agency for Scientific Organizations, Mikhail Kotyukov, and Aleksandr Burkov, who was just appointed acting governor of the Omsk Region, among the people in the video.
The training program was organized for the first time this year, but Russian Presidential Academy said that "it's going to become regular."
It included lectures, individual consultations and physical activities as Moscow wants governors to improve their leadership and negotiation skills as well as teamwork abilities.
The Kremlin began a major reshuffle of governors in late September, already assigning new regional heads in the Republic of Dagestan, the regions of Samara, Krasnodar, Nizhny Novgorod, Omsk and elsewhere.
You can share this story on social media: