Serbian FM sings in Turkish during Erdogan's visit (VIDEO, PHOTO)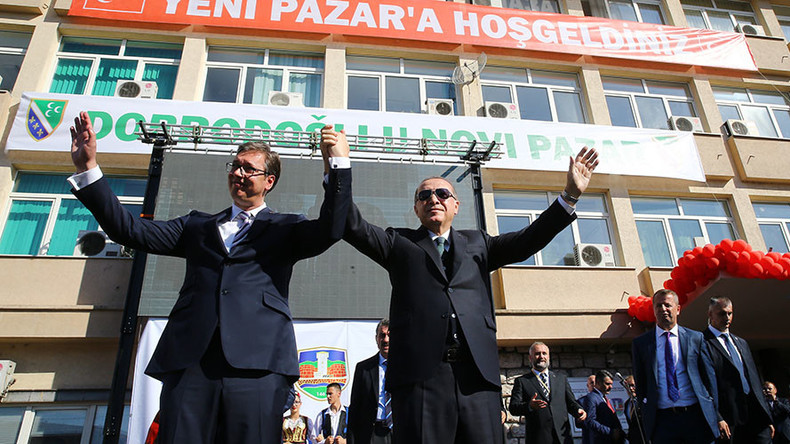 The visit of Turkey's president to Serbia has been marked by some odd moments, with Belgrade's FM singing in Turkish and Recep Tayyip Erdogan being greeted by a large banner reading "Welcome Sultan."
Erdogan is on a two-day visit to Serbia to meet senior officials and to participate in a Turkish-Serbian business forum.
On Tuesday in Belgrade, Erdogan pledged gas and Turkish investments for the Balkans and signed deals with President Aleksandar Vucic to expand bilateral free trade agreements.
The spotlight of the trip, however, was seemingly stolen by some bizarre moments.
While visiting the town of Novi Pazar alongside Vucic, Erdogan was greeted by a large banner reading "Welcome Sultan" and signed "Ottoman grandchildren," Reuters reports.
Novi Pazar is the center of the southern Muslim-majority region of Sandzak. The locals waved Turkish flags and shouted "Allahu Akbar."
Serbia's Foreign Minister Ivica Dacic, known for his love of public performances, surprised many when he sang a song in Turkish for Erdogan during a soiree hosted by the Serbian president.
Some Internet users were not amused by the Minister's performance, though, terming it a disgrace.
One person presumed that Ducic has a karaoke machine in his work cabinet while suggesting that his repertoire for foreign guests is determined through a secret ballot.
Ubeđena sam da Dačić u svom kabinetu ima karaoke mašinu i po ceo dan peva. Osoblje kabineta tajnim glasanjem, određuje repertoar za strance

— Tanja Vujisic (@TanjaVujisic2) 11 октября 2017 г.
A commenter on YouTube referred to Dacic by his nickname "little Sloba," which emerged during his time as the spokesman for the former Serbian President Slobodan Milosevic, and, which has stuck since.
Another user asked, "how much lower" the Serbian government can fall.
During dinner, the two leaders also exchanged gifts.
Erdogan received a carpet, while the Turkish president gifted his Serbian counterpart a set of chess and a bicycle bearing the inscription, "Aleksandar Vucic."
Relations between Ankara and Belgrade have never been easy, as Serbia endured centuries under Ottoman Empire rule. And while Muslim Serbians might consider the Ottoman period as a golden era, many Christians perceive it as occupation.
You can share this story on social media: