Deadly 'supercell thunderstorm' wreaks havoc in South Africa (PHOTOS,VIDEOS)
Published time: 11 Oct, 2017 18:19
Edited time: 12 Oct, 2017 13:54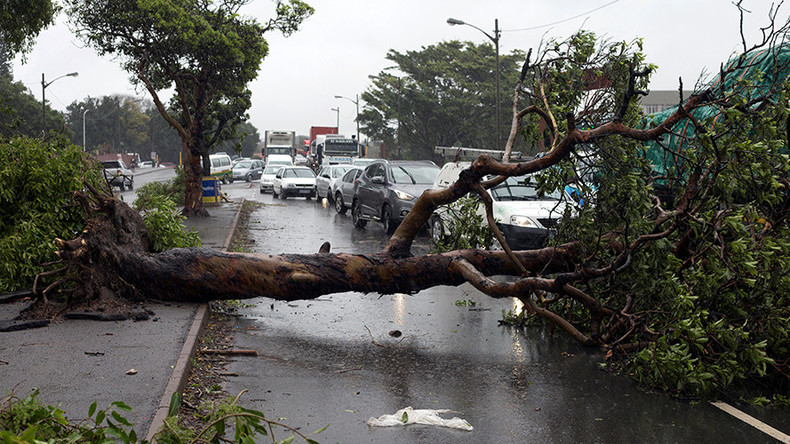 The South African province of KwaZulu-Natal is assessing the damage of a deadly storm that killed at least 11 people after extreme flooding and tornado-like winds ravaged the coastal city of Durban.
The storm was classed as a "supercell thunderstorm" by the South African weather service. These storms are defined by deep rotating updrafts.
Among the dead were two patients killed when a wall collapsed at the Prince Mshiyeni Memorial Hospital.
Authorities are still searching for several people reported missing. A reporter from South African TV station eNCA visited the search site for a 19-month-old toddler who was washed away in the flooding.
Footage of submerged vehicles and collapsing buildings were shared on social media.
South African hockey player Lloyd Madsen posted footage of Kingsmead cricket ground, which looked more like a swimming pool than a stadium.
Operations at the Port of Durban, the largest port in sub-Saharan Africa, were suspended Tuesday after the storm ravaged the region. It remains closed Wednesday. Three vessels were grounded while others broke mooring lines and drifted in the channel, the port authority said in a statement.
A massive clean-up was ongoing Wednesday as authorities took stock of the damage. The total cost is estimated to be in the millions of rand, however a full assessment has yet to take place.
READ MORE: Devastation of California's raging wildfires laid bare in drone footage (PHOTOS, VIDEO)
Mayor Zandile Gumede said the government is working to help city hospitals recover from the storm.