'Champagne stayed in the fridge': European independence movements react to Catalan 'anticlimax'
Published time: 11 Oct, 2017 00:54
Edited time: 11 Oct, 2017 07:47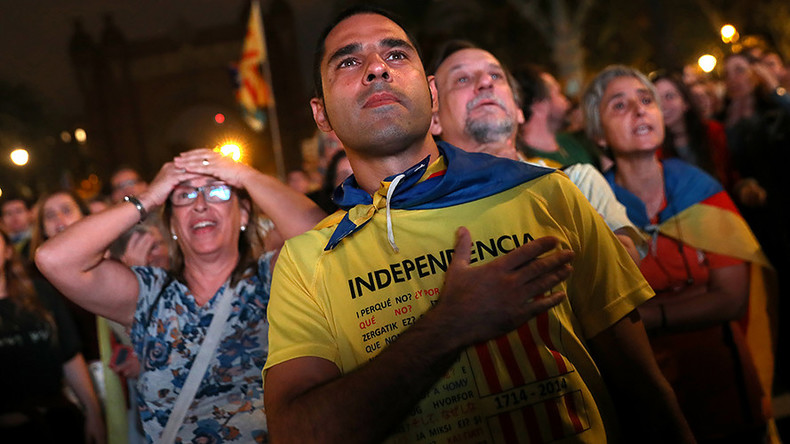 Representatives of the Scottish and Flemish independence movements have told RT the suspension of Catalonia's independence from Spain is an "anticlimax," but the decision is understandable because of "huge pressure" from Madrid and the "risk of violence."
"As a Flemish independence movement, we had bottles of sparkling wine prepared for a party tonight. But we kept them in the fridge because we were certainly deceived by the anticlimax that this day shows," board member of the Flemish Peoples Movement, Bernard Daelemans said after the much-anticipated speech of the Catalan leader in the regional parliament.
Carles Puigdemont announced Tuesday that he "assumes the mandate that Catalonia should become an independent state in the form of a republic," but temporarily suspended the 'declaration of independence' to facilitate dialogue with the central government in Madrid.
Such a decision "has been in the air," Daelemans said, elaborating on the "huge pressure has been exercised on the Catalan government and we've seen to what extent the Spanish government is using intimidation and violence."
"The pressure is terrible and if you take in account the risk of violence... then I can understand that Mr. Puigdemont will try to find a way out in dialogue."
At the same time, the Flemish independence activist noted that there have been no signs of Madrid being open for a dialogue.
"On the contrary, they have been only threatening [the Catalan leader]. I don't think that the way out of this confrontation will come from the Spanish side," Daelemans pointed out, calling for interventions from "European nations and institutions that should at last act responsibly."
Madrid has indeed rejected dialogue with Catalonia until the regional leadership returns to the path of the law and starts respecting the "rules of the game", Spanish Deputy Prime Minister Soraya Saenz de Santamaria said.
"The [Spanish] government cannot recognize [the] legitimacy of the Catalan law on referendum, which was frozen by the Constitutional court… Nobody including Puigdemont can implement the consequences of the law, which does not exist and the referendum, which did not take place. Nobody including Puigdemont can impose mediation without returning to the legal framework," she said, adding that an emergency meeting of the Spanish council of ministers would take place Wednesday.
A representative of another European movement for independence, Jonathon Shafi from the Radical Independence Campaign championing Scottish independence, has also criticized Madrid's actions during and after the Catalan referendum.
"When you talk about voices from the outside of Spain and across Europe, I think there has been a real sense in which European democrats – no matter their party, in fact no matter their view on independence for Catalonia – have expressed outrage at the way that Spain has handled [the situation]," he told RT.
However, it's the people in Catalonia who should determine the fate of their land. "The key force involved here is the Catalan people themselves, because they are the people that will force the question not just on Spain, but on the Catalan establishment as well," Shafi said.
He said the people in Catalonia will not forgive Madrid for the way it behaved, adding that it's the central government's excessive pressure and violence that "is going to make this process a very long one."
"In the way that the Spanish state has behaved, there is a link to the [national] heritage and history. We remember Franco [Spain's military dictator from the 20th century], and many people in Catalonia see the ghost of Franco and they want to extinguish it for good."