N. Korea needs up to 5yrs to be capable of hitting US cities – retired Russian general
Published time: 10 Oct, 2017 13:13
Edited time: 11 Oct, 2017 05:25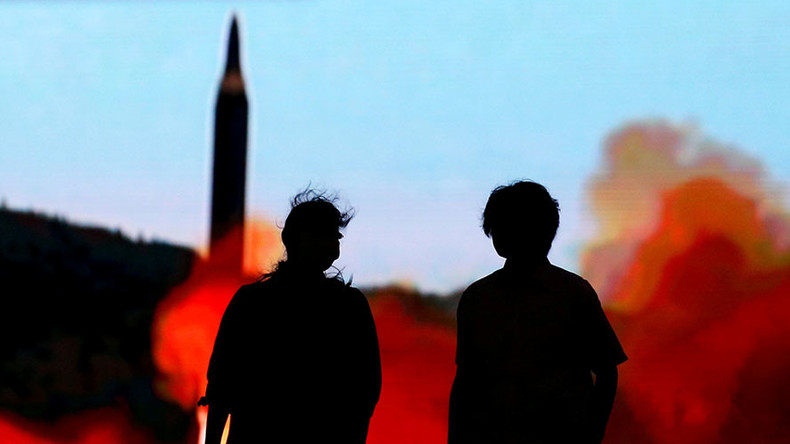 It will take North Korea four to five years to be capable of striking cities on the US mainland and less than three years to reach nuclear bases in the Asia-Pacific, according to former chief of the Strategic Missile Forces General Staff Viktor Yesin.
"At the turn of 2018-2020 the DPRK [North Korea] will be able to solve the task of striking American bases in the Asia-Pacific region," retired Colonel-General Viktor Yesin said, as cited by Interfax. He was speaking at 10th Anniversary Conference of the International Luxembourg Forum on Preventing Nuclear Catastrophe in Paris on Tuesday.
"Pyongyang will need some four to five years to solve the task of striking American cities, which is unacceptable for the US," Yesin estimated, according to the agency.
The general noted that Pyongyang will have all types of rockets that range "from short-range to intercontinental missiles" in the near future.
North Korea may currently have from 20 to 30 nuclear bombs of implosive type, according to Yesin. He added that the country can produce up to seven nuclear weapons a year, but the production opportunities "may increase up to 10."
Pyongyang has rapidly boosted its missile and nuclear program as the US and South Korea are "in their turn aggravating the situation in line with a regime change scenario in the north of the Korean peninsula," the general says.
To prevent the situation in the region from resulting in a "war by mistake," it is necessary to ease tensions on the peninsula, the former official stressed.
"The first step on this path is the implementation of the Russian-Chinese initiative stipulating the halt of [both] missile and nuclear tests in the DPRK and the holding of US-South Korean drills," Yesin said. He added that only the "double freeze" plan can provide the basis for dialogue.
The plan in question was, however, rejected by the US, which insisted on its right to conduct joint drills.
The general suggested that North Korea may halt its missile and nuclear activities for 10 years in exchange for the promise of the non-use of force. But to make this happen, Washington "must give up the idea of withdrawing from the Iranian nuclear agreement."
Pyongyang's support of such an agreement would depend on the relations with the US as it would be impossible if "conflict potential" remained.
Moscow and Beijing repeatedly insisted on their position that the crisis on the Peninsula can be solved solely by means of dialogue. Washington for its part said that it is now prepared to talk to Pyongyang only on the issue of detained Americans.