Blazing vehicle threatens to engulf gas station in stomach-churning video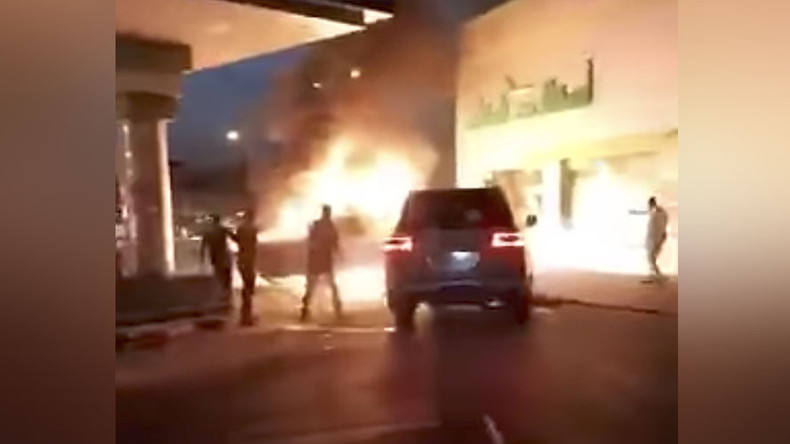 Dramatic video footage captured the nerve-shredding moment a man uses his SUV to shunt a flaming car away from fuel pumps at a gas station – potentially saving dozens of lives.
The incident took place on Monday evening at a station north of Riyadh, Saudi Arabia according to news outlet Sabq.
The flaming wreck sits perilously close to the fuel pumps as several people frantically try to put the fire out with little success. Sabq says up to 50 people were in the vicinity of the fire.
READ MORE: Apocalyptic inferno cloaks Disneyland in spooky haze as California fire rages (PHOTOS, VIDEOS)
The heroic driver, 20-year-old Sultan bin Mohammed al-Hazim al-Rajban, used his powerful vehicle to shove the burning car out of harm's way until fire crews could attend the scene.
"I was coming out of the mosque following the Maghrib prayers when I saw a large crowd trying to deal with a car on fire next to the petrol pump," Al-Hazim said.
"It was a dramatic scene with many civilians next to the car and others at the nearby ATM machine.
"I felt a strong urge to make the scene safe for everyone and I did not hold myself back. I got in my car, drove it to the burning vehicle and pushed it away from the pump to avoid the tragedy waiting to happen."
READ MORE: Raging inferno beside American Airlines plane spooks passengers (PHOTOS, VIDEOS)
The wheel of Al-Hazim's car caught on fire while he carried out the courageous act. A video of the vehicle in the aftermath of the incident shows it blackened from the flames.
"I tried to put out the fire that broke out on the front tires of my vehicle, and thanks to God – I went through the road to another road, and my car only suffered minor damage," he said.
Gulf News reports that the man was heaped with praise on social media, as many credited him with saving numerous lives.
"It is thanks to people like him who push the limits of courage and sacrifice that we can move forward proudly of what we can do for our nation," Fahad said.
"He deserves to be honored for saving lives and property. The least that the owner of the gas station should do is to pay for fixing his car and to give him free gas for one year," a commenter called Motivator added.