Catalonia crisis: Council of Europe demands Spanish probe into 'police violence'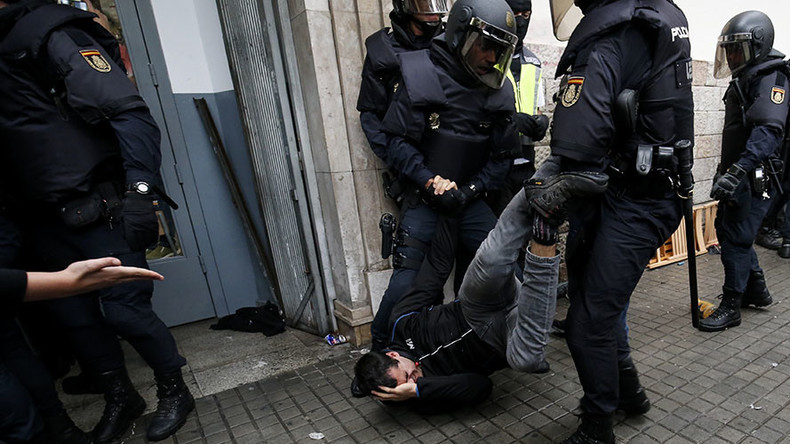 The Catalan referendum on October 1 made headlines around the world as Spanish police physically removed people from polling stations and confiscated ballot boxes.
Now, the Human Rights Commissioner of the Council of Europe has revealed that it has contacted the Spanish Minister of the Interior seeking "swift, independent and effective" investigations into allegations of disproportionate use of force by the police.
The council, which aims to uphold human rights, democracy and the rule of law in Europe and promote European culture, is not part of the European Union.
READ MORE: 'The brutal military repression has united us all' – Catalonia MEP
On Monday, the commissioner, Nils Muiznieks, published a letter he wrote to the minister, Juan Ignacio Zoido Álvarez, on October 4 in which he raised concerns about what unfolded at polling stations around Catalonia on the day of the vote.
"The Spanish authorities should ensure that swift, independent and effective investigations are carried out into all allegations of police misconduct and disproportionate use of force," Muiznieks said.
"This is of fundamental importance, both for deterring any further police misconduct but also to prevent any escalation of tensions and violence. In addition, ensuring accountability for any misconduct is essential to preserve public confidence in the work of law enforcement officials."
The commissioner called for an independent complaints mechanism covering all law enforcement officials to be established.
In his response Álvarez noted that the police acted in accordance with the recommendations of Spain's constitutional court and in a "proportionate and appropriate manner."
"Interventions were not aimed at citizens or their ideas, they were intended to prevent the holding of the referendum, the instructions transmitted by the highest court of the national territory," he said.
The Catalonian government says that nearly 900 people were injured by the police on the day of the referendum.
The region's leader, Carles Puigdemont, is set to address the Catalonian parliament on Tuesday, where he could defy Spanish authorities and declare independence for Catalonia.
Meanwhile, the Spanish government has not ruled out suspending Catalonia's regional autonomy.