'The brutal military repression has united us all' – Catalonia MEP
Published time: 6 Oct, 2017 16:22
Edited time: 7 Oct, 2017 10:27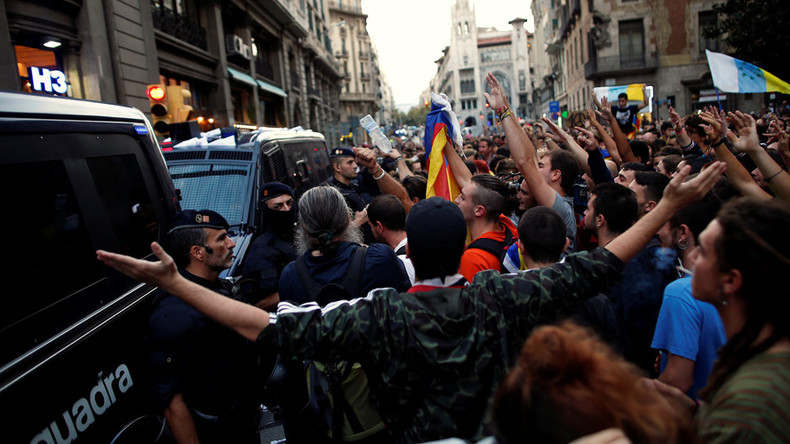 Madrid's crackdown on Catalonia following its independence referendum only "unified" people, Catalan European Democratic party MEP Ramon Tremosa told RT, adding that those who are really divided over the issue are Spaniards, not Catalonians.
Puigdemont has put off until Tuesday a session in the regional parliament at which some officials have called for a declaration of independence from Spain, AFP reported, citing a regional government spokesman.
"Puigdemont has requested to appear before parliament on Tuesday to discuss the current political situation," the spokesman said Friday.
Spain's Constitutional Court the previous day ordered the suspension of the session initially scheduled for Monday.
Meanwhile, despite mounting criticism from human rights groups, Madrid is not backing down from taking action against what it considers to be illegal separatism.
RT: How tense is the division in Spain right now? Or is this localized in Catalonia, as presumably a lot of Spaniards don't want Catalonia to leave?
Ramon Tremosa: I have to say that the brutal military repression, that all the world has seen on Sunday, has unified Catalans. Before the referendum, all the polls, published in Madrid also, showed that 82 percent of Catalans wanted the referendum. And now I can say that we are much more united. On the contrary, the government of Mariano Rajoy lost two weeks ago a vote in the Spanish Parliament under repression in Catalonia. So who is divided more and more? Spanish society, not the Catalan one.
RT: Madrid has deployed national and civil police forces across Catalonia, and is now boosting supplies. If they are to stay there, won't this boost further tensions?
RTr: I cannot talk in the name of the Spanish government. Our government said that this referendum was binding, not as the one we had in 2014, which was an unbinding consultation; we said that this referendum was binding. And now they are going to apply the results. In the next coming days the Catalan parliament will proceed to do so. I cannot answer you what will be the reaction of the Spanish state and the Spanish militants that are occupying Catalonia. But in theory we are a country of the EU. The treaties explicitly and clearly say that military power cannot be used against the population. So maybe the Spanish state is saying to us that we are not Spanish population, as we are beaten in the streets like animals. So let's see what's going on next days.
RT: EU Commission vice-president, Frans Timmermans, has backed the violent actions of the police on referendum day, calling it a 'proportionate use of force.' Should protesters and voters take some of the blame?
RTr: It is not true that referendum was illegal. The Spanish Constitutional Court has suspended it, but not declared it as illegal. So this is an important question. Then I think that has been a big mistake from the commission to repeat exactly the same words of the Spanish government. This supposes that the European commission has autonomy in front of member states, and it is a very bad signal to European citizens, that the brutal repression that I saw with my eyes in the streets of Barcelona, is called "proportionate" repression in the mouth of Vice-president Timmermans. It does not help to the European Unity to speak like that.
RT: Will Catalonia keep its word and declare independence next Monday? If so, are you prepared for further unrest?
RTr: We don't know what will be the reaction of the Spanish government. They threat our President, our ministers, and Parliamentarians with jail – so maybe they will go to jail. And Catalan President [Carles] Puigdemont [has been] saying in the last months: 'I don't want to go to jail, but I am ready to go to jail, because I have to be loyal to the democratic mandate that the population of Catalonia is giving in the last elections and in the last referendum – it is a growing demand for independence.'