Newly-hired Indian zookeeper mauled to death by white tiger cubs he tried to feed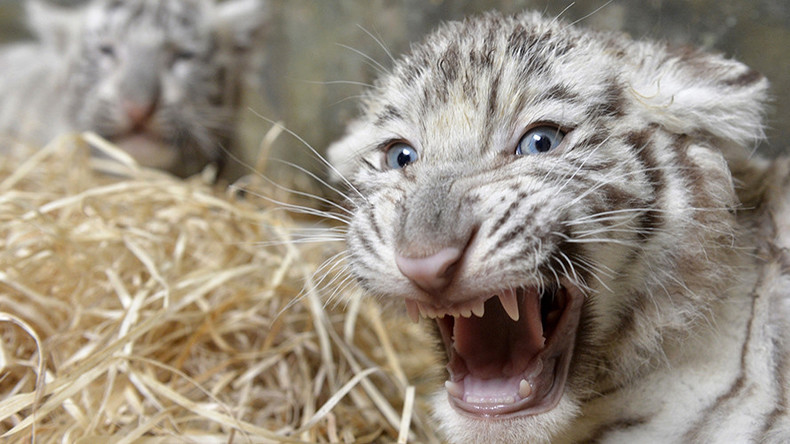 A staff member at the Bannerghatta Biological Park in Bangalore, India, has been attacked by two tiger cubs, who jumped on him and bit his neck after he apparently disturbed the animals' rest. The cubs then prevented other staff from retrieving the body.
The 40-year-old keeper, named Anji, had only worked at the national park in southern India for a handful of days, local media reported, citing officials. He was hired to fill in for another staff member.
Late on Saturday, alongside the white tigers' caretaker, Anji was about to prepare dinner for the tigers before their night's sleep. He entered their enclosure to clean the bones and place fresh meat after the park was closed to visitors for the day.
In the cage, a tiger named Soorya, adopted by a local legislative assembly member, and her two cubs, Vanya and Jhansi Rani, both one and a half years old, were already resting, the Times of India reported citing an official.
Anji reportedly didn't notice that the gates to the area with the tigers were not locked properly. When one of the cubs saw a stranger in their cage, it jumped on him and bit his neck. Another cub then joined in.
"When Anji started screaming, the tigers got enraged and took him into the safari area," the official told the newspaper.
They then ate parts of his body, the Times of India reported, citing sources. This information has not yet been confirmed by the zoo.
When the caretaker tried to come to his assistant's rescue, the tigers wouldn't allow him to come close, guarding Anji's body. The senior staff member was "in fact chased by the tigers too," but "was lucky to get to a safe place."
On Sunday, relatives of the killed man staged a protest at the national park, which houses nearly 2,000 animals, including the white tigers that are listed as an endangered species. Having accused the park authorities of negligence, they demanded 500,000 rupees ($7,640) in compensation for their loss, AFP reported.