Iran may equate US forces to ISIS if tough new sanctions confirmed – Revolutionary Guard chief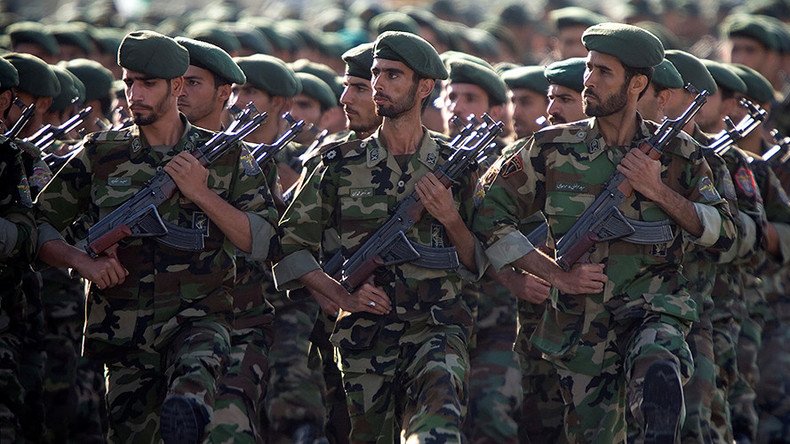 Tehran has warned it may begin to equate US forces to Islamic State (IS, formerly ISIS/ISIL) if a report is true that Washington will include the elite wing of the Iranian Army in the list of terrorist organizations.
The possible designation of the Islamic Revolutionary Guard Corps (IRGC) as a terrorist group, among other measures against Tehran, was reported by the Financial Times, citing a source "briefed on the matter."
US President Donald Trump also accused Iran of supporting terrorism and vowed to "put an end to Iran's continued aggression and nuclear ambitions."
Revolutionary Guard chief Mohammad Ali Jafari said that if these reports of the United States' "stupidity" are true, it will equate US troops, especially in the Middle East, to IS terrorists.
"If the news is correct about the stupidity of the American government in considering the Revolutionary Guards a terrorist group, then the Revolutionary Guards will consider the American army to be like Islamic State all around the world particularly in the Middle East," Jafari said on Sunday, according to a Revolutionary Guard statement.
Jafari also said that Washington is on "the wrong route" in attempting to pressure Iran into negotiations on regional issues, and said that new sanctions would only "eliminate the chance" for talks.
"As we've announced in the past, if America's new law for sanctions is passed, this country will have to move their regional bases outside the 2,000 km range of Iran's missiles," the Revolutionary Guard chief warned.
On Thursday, Trump accused Tehran of violating the "spirit" of the landmark nuclear agreement, the Joint Comprehensive Plan of Action (JCPOA), limiting Iran's nuclear program for fifteen years in exchange for easing pre-existing sanctions. He also included the Islamic Republic in a list of "challenges we should've taken care of a long time ago," which features North Korea, Afghanistan, and IS.
Trump has until October 15 to recertify the deal. If he chooses not to, it will go to Congress, which will have to decide whether to re-impose sanctions on Tehran, thus effectively putting an end to the agreement. Trump has called the agreement the "worst deal ever negotiated," and pledged to "dismantle" it.
Iran has repeatedly warned against violating and pulling out of the deal, as it would be harmful primarily to Washington's own interests and jeopardize the security of the whole region.
The EU has also voiced concerns over removing the nuclear agreement, which "serves the interests of all parties," according to EU foreign policy chief Federica Mogherini. She also stressed that the achievement in striking the long-negotiated agreement belongs to the international community, not just the US.
You can share this story on social media: