Russian subs hit terrorist targets with 'Kalibr' cruise missiles in Syria (VIDEO)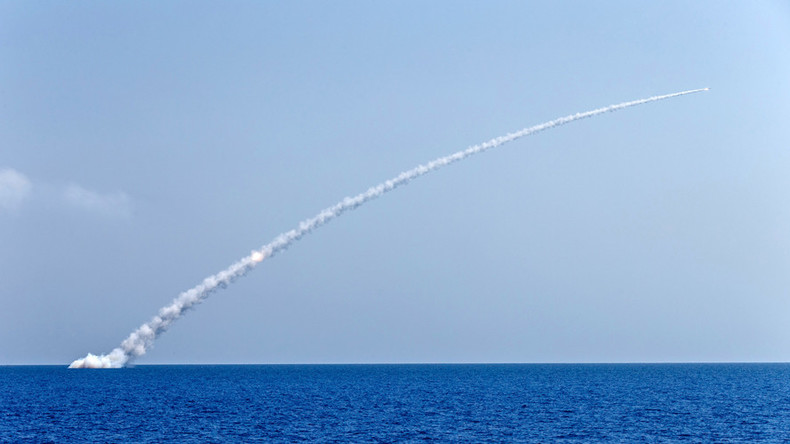 Russian submarines have fired Kalibr cruise missiles from the Mediterranean hitting terrorist targets in Syria, the Defense Ministry said. The strikes were to support Syrian troops waging ground offensive in Deir-ez-Zor province.
The submarines 'Veliky Novgorod' and 'Kolpino' launched 10 missiles on Thursday when patrolling the Mediterranean, ministry spokesman General Igor Konashenkov told reporters.
The spokesman said the submarines fired the missiles while submerged.
Before the missile strikes, Russian surveillance detected Islamic State (IS, formerly ISIS/ISIL) targets in Deir-ez-Zor province, including command centers, large ammunition depots and hangars housing terrorists' armored vehicles, the ministry added.
"To hit these targets, Velikiy Novgorod and Kolpino submarines of the Black Sea Fleet have performed two multiple launches of Kalibr cruise missiles from the Mediterranean," the spokesman said.
The targets were located outside the Syrian town of Meyadin, he added.
Syrian troops are now on their ground offensive in the area near the Euphrates River, getting close air support from the Russian military.
Earlier in August, the 'Kolpino' and 'Veliky Novgorod', non-nuclear submarines named after two Russian cities, set sail from the Baltic Sea to join the standing naval task force in the Mediterranean.
This week, Russian military launched airstrikes on multiple terrorist targets in other parts of Syria. On Wednesday, the Air Force bombed a high-profile command center manned by Tahrir al-Sham (formerly Al-Nusra Front), saying it had heavily injured Abu Mohammad al-Julani, the terrorist group's leader.
A subsequent airstrike also destroyed the terrorist group's "largest underground ammunition depot" near the town of Abu ad-Duhur, accommodating "over 1,000 tons of artillery shells and multiple launch rockets," according to the Defense Ministry.
In September, the Russian military released aerial intelligence which apparently showed US Special Forces positions in an Islamic State-held (IS, formerly ISIS/ISIL) area north of the city of Deir ez-Zor. The US, however, denied having any links to IS.