Al-Nusra Front leader in coma after Russian airstrike in Syria – MOD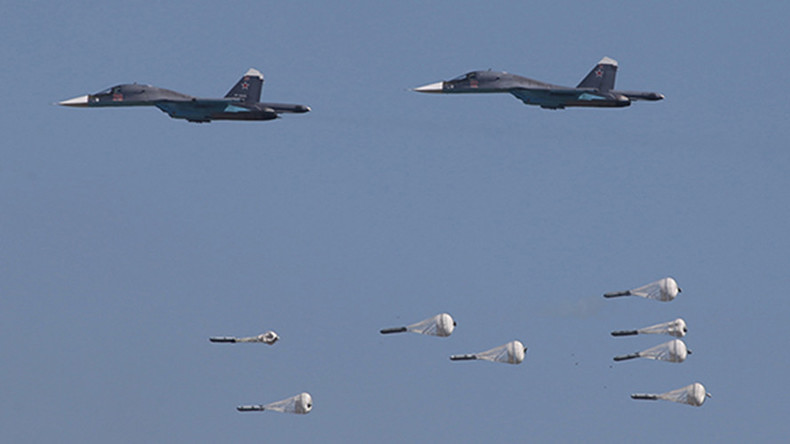 Abu Mohammad al-Julani, leader of Al-Nusra Front, has fallen into a coma following a Russian surgical strike on the terrorist group's top commanders in Syria's Idlib province, according to Russia's Defense Ministry.
Earlier, the ministry said the terrorist leader was critically injured in the strike on October 3.
The bombing, which led to Al-Julani's injuries, caused chaos among Tahrir al-Sham members, according to the Russian military. After the field commanders of the "eastern sector" of Tahrir al-Sham (formerly Al-Nusra Front) in Idlib province gathered to work out further plans, the Su-34 precision airstrike killed 49 militants, including seven leaders.
The jet also destroyed the terrorist group's "largest underground ammunition depot" near the town of Abu ad-Duhur, accommodating "over 1,000 tons of artillery shells and multiple launch rockets."
The Russian Air Force previously targeted Tahrir al-Sham's top military leadership after the terrorist group attempted on September 18 to encircle and capture a Russian military police unit deployed to observe the ceasefire in various parts of Hama province.
Among the commanders killed in the airstrike were Tahrir al-Sham's 'finance emir,' a chief of Idlib's southern sector, an adviser to the 'war minister,' a Sharia judge, and an aide to a spiritual leader, the military said at the time.
The airstrike also destroyed a nearby "ammunition and explosives depot and six SUVs with large-caliber weapons," Igor Konashenkov, spokesman for the defense ministry, said.
The defense ministry said that an offensive launched by Al-Nusra Front terrorists and their allies to capture a unit of the Russian military police was orchestrated by the US security services.
Just four days later, the Russian MoD released aerial intelligence which they say shows US Army Special Forces equipment in an Islamic State-held (IS, formerly ISIS/ISIL) area north of the city of Deir ez-Zor. The US, however, denied having any links to IS.
The Russian military estimates that 90 percent of the country is now cleared from terrorist groups, Andrey Novikov, head of the Commonwealth of Independent States (CIS) Anti-terrorism Center, told RIA Novosti on Thursday.