Madrid sends 20 trucks with beds, kitchens & showers to riot police deployed to Barcelona – media
Published time: 5 Oct, 2017 10:16
Edited time: 5 Oct, 2017 11:44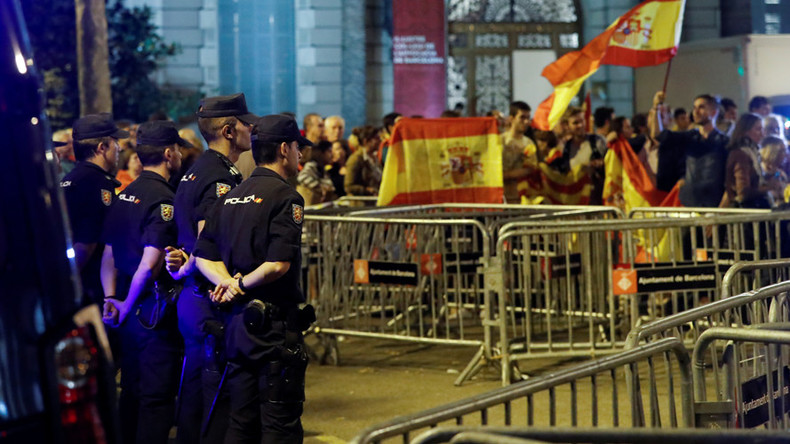 Madrid has sent convoys with beds, kitchens, and showers to Catalonia for riot police deployed to the region ahead of Sunday's independence referendum. This comes after hundreds of Spanish police were evicted from hotels after their crackdown.
The Spanish Defense Ministry sent aid to the Civil Guard and National Police deployed in the region on Tuesday, Spanish media reported.
"The 41st Logistics Support Group [AALOG 41] of the Spanish Army located in [the city of] Zaragoza has sent beds, kitchens, showers and lockers to the logistics support department of Sant Boi de Llobregat [a town in Barcelona province]," a defense ministry spokesman told El Español newspaper.
The convoy consists of 20 trucks, according to El Confidencial newspaper, which also reports that the unit had been on alert for a week.
According to the newspaper, the AALOG 41 has also taken part in missions in Bosnia, Kosovo, Iraq, Lebanon, and Afghanistan.
Madrid's support for forces deployed in Barcelona comes after hotels around Catalonia evicted up to 500 Spanish police officers from their premises late Monday.
READ MORE: 'Out with occupiers!': Spanish police evicted from hotels in Catalonia (VIDEO)
Thousands of extra officers from the National Police and Civil Guard were deployed to Catalonia amid tensions over the independence referendum. The vote was held on Sunday, despite Madrid labeling it "unconstitutional." The police crackdown during the vote resulted in over 800 people injured across the region.
Less than a half of the Catalan population managed to participate in the vote.
Catalan authorities claim that according to preliminary data, 90 percent voted "yes" to independence from Spain. Madrid denounced the referendum, ruled illegal by the Spanish Constitutional Court, and called mass demonstrations in Catalonia an affront to the rule of law.
READ MORE: 700k protest Spain's referendum crackdown in Barcelona – local police (PHOTO, VIDEO)
Around 700,000 demonstrators took to the streets of Barcelona on Tuesday to vent their anger and frustration at the federal government.
On Wednesday, Catalan President Carles Puigdemont said he does not plan to delay the declaration of independence for much longer and is ready to "act at the end of this week or the beginning of next."
Puigdemont's statement came shortly after a televised address by King Felipe VI, in which he slammed Catalonia for "repeatedly, consciously and deliberately" violating the constitution, laws providing for its status as an autonomous region, and "showing an inadmissible disloyalty to the powers of the state."
The EU is seemingly keeping its distance from the escalating crisis in Catalonia. The European Commission said on Monday that it is "an internal matter for Spain."
On Thursday, European Commission head Frans Timmermans insisted it was not for Brussels to intervene and called on the Spanish government and Catalan authorities to move from confrontation to dialogue, "working within the constitutional order of Spain."
"It's time to talk," he said, adding that "respect for the rule of law is not optional."
German Chancellor Angela Merkel's spokesman, Steffen Seibert, told reporters on Wednesday that Merkel "is not pursuing a mediation mission. It is an internal matter for Spain" and "it is important ... that the rule of law is adhered to."