'Out with occupiers!': Spanish police evicted from hotels in Catalonia (VIDEO)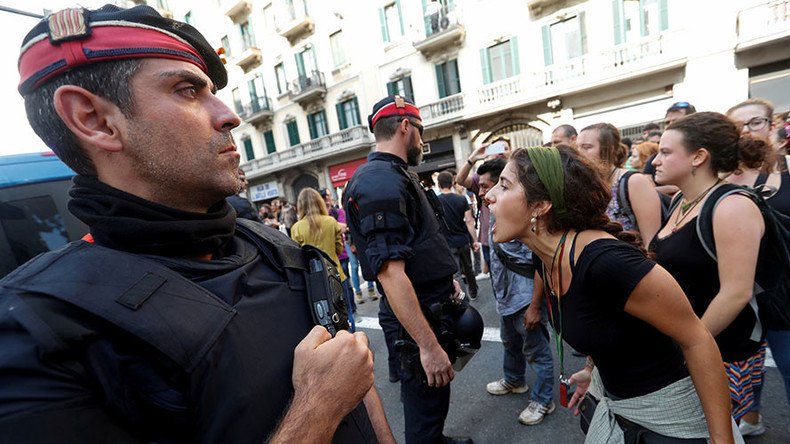 Hotels around Catalonia evicted up to 500 Spanish police officers from their premises on late Monday, amid a local outcry and mass protests surrounding their buildings.
The demonstrators surrounded hotels in the towns of Calella, Pinedea and Figueres, shouting, "Out with the occupying forces!" and singing Catalan songs.
Videos have also emerged of the National Police crowding the lobby of the Pineda del Mar hotel and singing Spanish national songs, waving flags and calling for action to be taken against the protesters.
Amid the protests, hotel managers in Pineda and the other towns started evicting their uniformed guests on Monday to avoid escalating the situation with the protesters. The management may have also allegedly been influenced by threats made toward property and staff, according to reports in Spanish media.
The Civil Guard's union, the AUGC, confirmed that over 250 of its officers were expelled from one hotel near Barcelona alone, while local newspapers reported a total of 500 officers altogether from both the Civil Guard and the National Police have been forced to find new accommodation.
Earlier, Deputy Prime Minister Soraya Saenz de Santamaria said she had a letter signed by a hotel manager accusing the Pineda council of threatening to close the hotels, which she denounced as "mafia behavior," but the council and hotel later issued a joint statement denying any undue pressure.
On Tuesday, Spanish Interior Minister Juan Ignacio Zoido said that neither the National Police nor Civil Guard would abandon their hotels under threats. But all the main unions of the National Police – SUP, CEP, UFP, SPP and ASP – have called on the government to do more to ensure the safety of police officers deployed to Catalonia, warning that if nothing is done they will demand resignations from Zoido and other government ministers.
"After a long day of work, the Guardia Civil had to endure shouting, insults and some bottles were thrown," the AUGC said in a statement.
Tens of thousands of extra officers from the National Police and Civil Guard deployed to Catalonia amid tension over the independence referendum held on Sunday, after Madrid accused local police of not doing enough to stop the ballot. Millions of Catalans turned up to vote in the plebiscite, which was deemed illegal by the Spanish government and violence broke out, with local authorities reporting that nearly 900 people had been wounded by riot police wielding batons and rubber bullets in an attempt to break up the voters. Protests are ongoing in Catalonia and Barcelona, and no official date has yet been announced for the withdrawal of the extra forces.
You can share this story on social media: