'Trump's reading from his notes, doesn't know where Venezuela is' – Maduro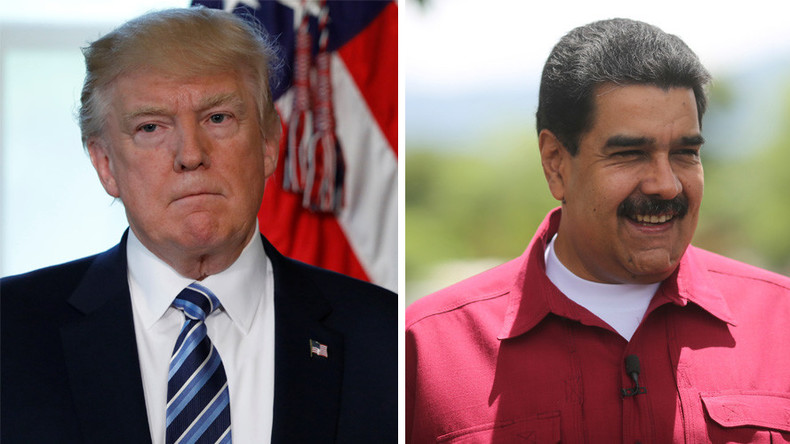 The firebrand Venezuelan president, Nicolas Maduro, has verbally lashed Donald Trump, claiming he knows little of Latin American geography. He also said that Trump "reads from notes," even though the US leader is known for speaking off-the-cuff.
Maduro made a series of emotional statements while addressing the 2017 Russian Energy Week in Moscow on Wednesday.
"Trump is reading from the notes. Trump doesn't even know where Venezuela is. He just does not know that. He doesn't even know where Puerto Rico is, he didn't know that," the Venezuelan president claimed.
The US president does seem to have had some issues with geography. During his campaign rally in Atlanta in 2016, Trump called the European country of Belgium a "beautiful city."
Trump also made a geographical gaffe when he informed Israeli President Reuven Rivlin that he "just got back from the Middle East" during his official visit to Israel.
Oh man, watch Israeli ambassador Ron Dermer (on right couch) react when Trump says—in Israel—"We just got back from the Middle East." pic.twitter.com/x7nb4uvqpR

— (((Yair Rosenberg))) (@Yair_Rosenberg) May 22, 2017
The US leader, is however known for his colorful, rambling rhetorical style that, according to some experts, contributed to his electoral success and made him more appealing in the eyes of some voters.
Back in 2015, Trump himself praised his own ability to speak off-the-cuff by saying that it helps him to keep an audience's attention. "If you're reading or you have a teleprompter or even looking down all the time at notes, you're not going to get the reaction from the crowd," he told Jimmy Fallon on NBC's Tonight Show in September 2015.
In the meantime, Maduro claimed that the US leader not only lacks geographical knowledge but also does not know a thing about the history of Latin America.
"Tell him of 'Simon Bolivar' and he will think it's a rock singer – he doesn't know who he was," Maduro said at the Russian Energy Week on Wednesday, referring to the famous Latin American 19th century statesman and fighter against Spanish colonial rule.
The Venezuelan president also sharply criticized the US leader for the threats Trump issued against Venezuela.
"It was [George W.] Bush who supported the coup against Comandante [Hugo] Chavez … But we carried on because we were right," the Venezuelan leader continued.
"Obama was different. He was smiling, but also imposed sanctions with a smile."
"But Trump… Trump is rude. He is telling me: 'I will finish you!'" But even under the current US leader, Maduro claimed, "Venezuela will move forward. It has its own destiny, and we will fight for this destiny."
In mid-August, American president said that he would not rule out a "military option" against Venezuela, provoking a heated diplomatic exchange between the two countries. Venezuelan Defense Minister Vladimir Padrino Lopez called the remark "an act of supreme extremism," while the White House said it had rejected a phone call from Maduro at the time.
Maduro's latest comments came at a time when Washington and Caracas are engaged in a bitter war of words.
Trump denounced the Venezuelan government as a "socialist dictatorship of Nicolas Maduro" in his speech at the UN General Assembly. The US president even warned that his country is ready to move beyond sanctions and "take further action if the government of Venezuela persists on its path to impose authoritarian rule on the Venezuelan people."
In response, Maduro dubbed Trump "the new Hitler of international politics" and condemned his "aggression against the people of Venezuela."
The US president in turn added Venezuela to a new travel ban along with North Korea on September 25. The move provoked an angry reaction from Caracas, as Venezuelan Foreign Minister Jorge Arreaza slammed it as a new act of "aggression." The Venezuelan Foreign Ministry also accused Washington of "political and psychological terrorism," responding to the addition of Venezuela to the US travel ban.
In late September, Maduro also referred to the US as "the most criminal empire in the history of mankind" in a speech he delivered at the military parade held at the El Libertador air base in Aragua state in commemoration of the establishment of the Operational Strategic Command of the Venezuelan armed forces.
Venezuelan officials also slammed Washington, claiming the US was intervening to boost anti-government protests in the Latin American country.