'I'll drive straight into them with my trolley': 83yo Swedish granny confronts neo-Nazis (VIDEO)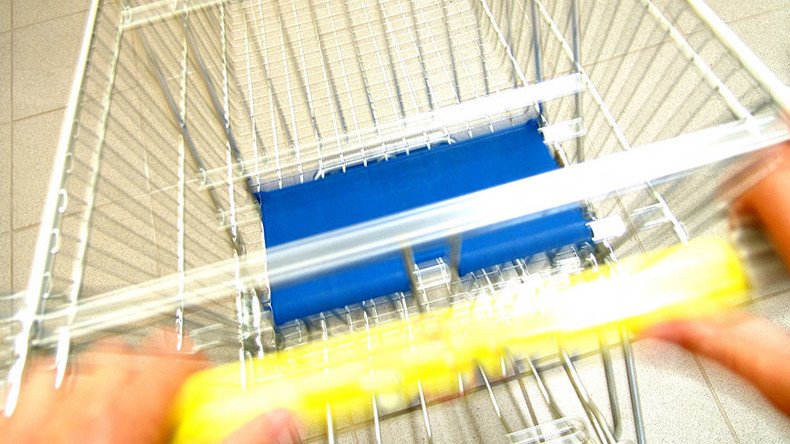 Shopping for groceries has nearly turned into a battle with a group of neo-Nazis for one principled old lady from the Swedish town of Gothenburg, with a video of the woman ready to confront dozens of black-clad protesters going viral.
The shopper apparently had her mood spoiled when she drove to get her groceries at a local supermarket, but found neo-Nazis gathered in its parking lot ahead of a demonstration.
"I am angry. To come here and destroy… how much does all of this cost?! I'll drive straight into them, I'll drive straight into them," the woman resents, pushing her shopping cart through a crowd of the right-wing Nordic Resistance Movement (NMR) members, who turned up for the Saturday march.
The woman, named Ingegerd, said she'd mow down the demonstrators with her trolley when asked by a journalist from the ETC newspaper, who shared the video of her. As seen on the footage, the octogenarian appears to look unimpressed with black-clad neo-Nazis, who "politely moved aside," the Local quoted the journalist Eigil Soderin as saying.
As Ingegerd's threat made the rounds on social media, garnering thousands of shares and likes, it made headlines in the local media, as ETC asked the bold lady what she thought of her sudden celebrity.
While the matter seemed "blown a bit out of proportion," Ingegerd says her friends "would not have dared to do the same thing."
"I did not think about the risk – my anger took over. The whole of Gothenburg was rebelling against the Nazis and when I suddenly had them in front of me I wanted to protest," she said.
On Saturday, a rally on some 500 NRM supporters met with resistance from thousands of counter-demonstrators, which resulted in clashes with police officers. Up to 30 people were arrested and at least two were injured in the scuffles.
You can share this story on social media: