Cosmic culture: Nano capsule will take art to the moon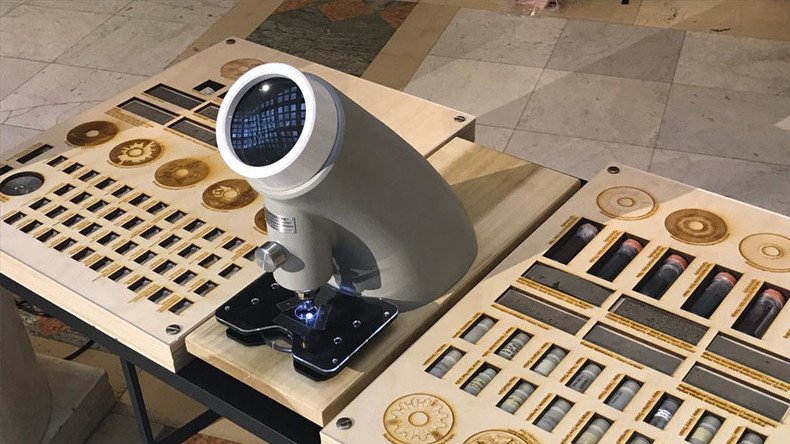 Pockmarked with the remnants of early space exploration, the moon now plays second fiddle to Mars as a potential destination. But a new project aims to revisit the lunar landscape - by rocketing a mini art gallery to Earth's natural satellite.
Once the great frontier of space-faring, the moon has not been visited by a manned mission since 1972. Evidence of bygone missions remain however, including defecation (yes, really) left by Apollo 11 astronauts, some commemorative items and the Soviet Union's crash-landed Luna 2 impactor.
READ MORE: Musk's 'Big F*cking Rocket' will get you 'anywhere on Earth in under an hour' (VIDEOS, PHOTOS)
But next year mankind's lunar footprint may become a lot more cultured thanks to MoonArk, an 8in-tall time capsule containing abstract nano art, music and poetry about mankind's relationship with the moon.
Devised by researchers at Carnegie Mellon University, the capsule is expected to be shot to the moon with the help of SpaceX and an Astrobotic lunar lander in 2019.
Astrobotic, a US robotics company, is building a lunar delivery spacecraft as part of a Google competition to encourage privately-funded missions to the moon.

Divided into four chambers, the MoonArk's design had size restrictions due to the high costs of delivering materials into space. And yet it contains hundreds of examples of art. To overcome the delivery cost - nearly $1 million per pound - the project's organizers say 250 artists, designers and researchers were drafted in to create a "nearly weightless" capsule.
The result is a miniature world of platinum disk etchings, surrealist images, and music.
READ MORE: Russia and China to work together on space explorations, Moon missions from 2018
The payload includes an Anatolian love song, 'Was her Face the moon or sunlight?', as well as text messages exchanged by a married couple.
A layout of the design also shows how a diamond and samples of ocean plankton will be included on board the curious gallery.
A duplicate of the capsule has been created to be displayed on Earth. Mark Baskinger, the project director of MoonArk, suggested the concept centers on mankind's moon legacy.
"Our time with it here is only a minute fraction of the time it will likely spend on the moon waiting for someone to discover it," Baskinger said in a statement.
"My hope is that the MoonArk raises conversation about humanity expanding outward into space, our attempts to communicate forward and the traces we leave behind."
You can share this story on social media: