France introduces photoshop law to combat eating disorders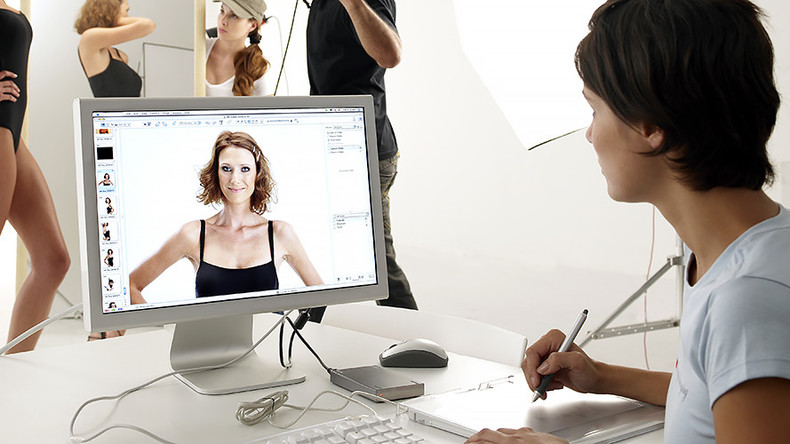 The use of photoshopped images to make people look thinner must now carry a warning telling consumers that the photo has been altered, according to a new law introduced in France.
First approved in January 2016, the legislation is part of the government's two-pronged approach to combat anorexia in the country. An estimated 600,000 people in France suffer from anorexia and other eating disorders.
The first part of the plan, adopted in May, requires all models working in the country to provide a doctor's note certifying that their Body Mass Index (BMI) is within healthy parameters.
READ MORE: France bans super skinny models from catwalks
Publications which don't display the warning "photographie retouchée" (touched up photograph) could face fines of up to €37,500, or 30 percent of the of the advertisement's cost. The law applies to both print and online media.
"It will be mandatory to use the label 'retouched photo' alongside any photo used for commercial purposes when the body of a model has been modified by an image-editing software to either slim or flesh out her figure," the law states, according to France 24.
Former health minister Marisol Touraine, who introduced the legislation, said that it was intended to "to avoid promoting inaccessible ideals of beauty and to prevent anorexia among young people."
"Exposing young people to normative and unrealistic body images leads to a feeling of self-depreciation and poor self-esteem that can have an impact on health-related behavior," she added.
As a direct result of the law, stock imaging site Getty Images also introduced a Photoshop ban that came into effect on October 1.
"A photographer who does not comply with our submissions requirement would be in breach of its contract with us," a Getty representative told Dazed.
"Our perceptions of what is possible are often shaped by what we see: positive imagery can have direct impact on fighting stereotypes, creating tolerance, and empowering communities to feel represented in society," the representative added.
You can share this story on social media: