France bans super skinny models from catwalks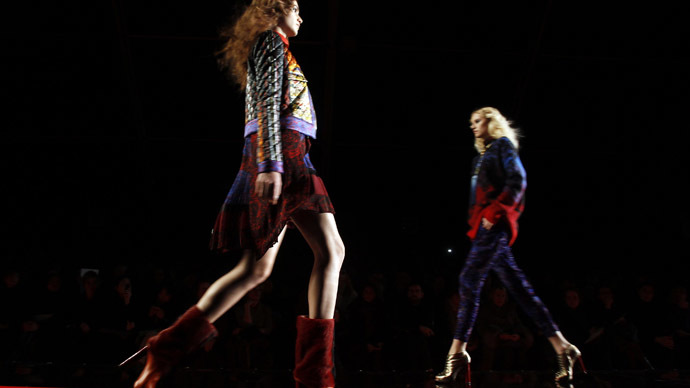 France's National Assembly voted on Friday, in the latest measures to battle anorexia, to ban models that are considered dangerously thin and will impose heavy fines and prison sentences for agents who employ them.
Models in France will now have to present a medical certificate showing they have a BMI (Body Mass Index) of at least 18, about 55 kg for a height of 1.75 meters before they get hired.
But France is on the generous end of what is interpreted as thin. The WHO (World Health Organization) says that a BMI below 18 is malnutrition, below 17 is severe malnutrition and below 16 is starvation.
The law calls for prison sentences of up to six months and large fines of up to €75,000 ($82,000) for any agent that flouts it.
READ MORE: Anorexic-looking model causes fierce social backlash for Danish magazine
Another measure in the bill will mean that websites that encourage people to "seek excessive thinness by encouraging eating restrictions for a prolonged period of time, resulting in risk of mortality or damage to health," will now face up to a year in jail and fines of up to €100,000 ($110,046).
"The prospect of such a punishment will have the effect of regulating the entire sector," said Socialist MP and neurologist Olivier Veran, who proposed the amendments to the package of health reforms recommended by Health Minister Marisol Touraine.
"This is an important message to young women who see these models as an aesthetic example," said Touraine, as cited by AFP.
France leads the ban on anorexic models and in a America, Google Anorexia and Anorexia Dieting is 3rd from the top. More Awareness needed

— Darren Cox (@Cox_Darren) April 3, 2015
France is not the first to legally ban skinny models. Similar legislation was passed in Israel in 2012.
The law was voted through by President Hollande's Socialist majority, but was contested by conservative lawmakers who argued that banning skinny models would lead to discrimination in the hiring process.
The National Union of Modeling Agencies also argued the law would make France uncompetitive in the modeling world.
Up to 40,000 people suffer from anorexia in France, 90 percent of them women and girls, and most of these are teenagers, according to health experts.
In a celebrated case, Isabelle Caro, an anorexic 28-year old model from France, died in 2007.