Man injured in eye with rubber bullet in violent police attack in Catalonia (VIDEO)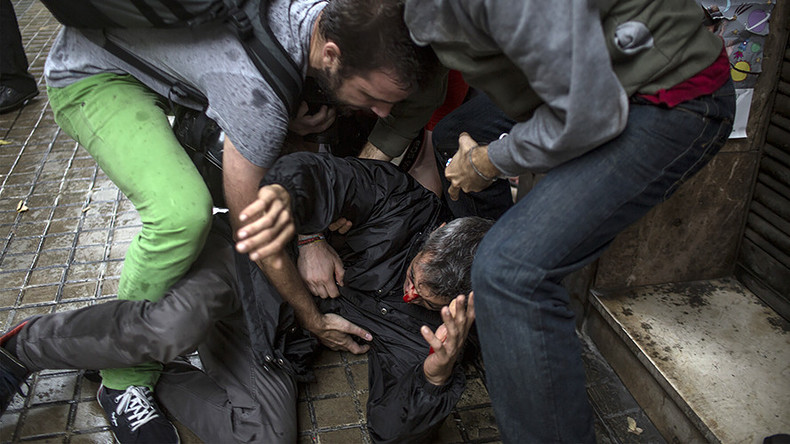 A man was shot in the eye with a rubber bullet as Spanish police pushed through a crowd of independence referendum voters outside a polling station in Catalonia, reports indicate.
The man was injured by the national security forces during a stand-off with voters outside the Ramon Llull school, which currently serves as a polling station, in Barcelona. The police were trapped among the civilians after seizing ballot boxes from the school, and fired rubber bullets at them to clear their way, according to local media reports.
READ MORE: Police use of batons & rubber bullets is 'unjustified violence' – Catalan leader
The victim was taken for surgery at Sant Pau hospital in Barcelona, according to Spanish media.
Rubber bullets have been banned in Catalonia since April 2014, as they can cause very serious injuries, particularly to the eyes. However, the ban affects only the regional police force 'Mossos', which takes orders from the Catalan government, according to the Spanish newspaper El Periodico.
People shared pictures on social media of some ball-like projectiles, which they say were fired by the police.
The use of force against people was earlier decried by Catalan leader Carles Puigdemont, who called it "unjustified violence."
At least 893 people and 11 policemen have been injured in the clashes during Sunday's referendum, according to the Catalan Government. The vote in Catalonia is considered illegal by Madrid, which deployed additional forces to the region in a bid to thwart the procedure.