Spectre of N. Korean atmospheric nuclear test prompts emergency plans in Seoul & Tokyo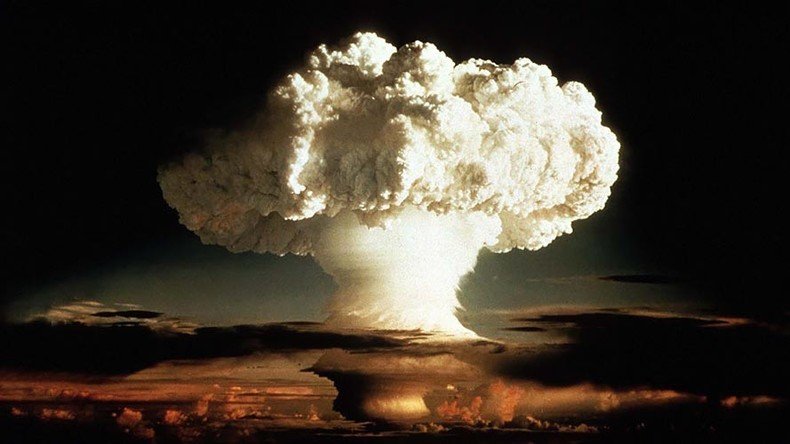 South Korean banks and utility companies are drawing up plans to construct shielding and potentially move operations overseas to protect against North Korea as further provocation from Pyongyang is expected on October 10.
South Korean banks and vital infrastructure facilities, including nuclear power plants and government ministries, have reportedly been hacked by Pyongyang in the past. And as tensions in the region escalate, many now fear the North Korean regime will conduct an atmospheric nuclear test to coincide with the 72nd anniversary of the founding of the Workers' Party of Korea on October 10.
The South Korean government warned Thursday that its northern neighbor was "highly likely" to continue military provocations in the build up to the October celebrations.
"Current regulations prohibit the transfer of client information overseas, so we are discussing ways to revise those rules so we can set up data back-up centres abroad," a Financial Supervisory Commission official said as cited by Chosun.
"I understand it is an important anniversary for North Korea. We would like to maintain a sense of urgency," Japanese defence minister Itsunori Onodera said Friday as cited by The Japan Times.
A nuclear blast or a specifically designed electromagnetic pulse device can create current and voltage surges in electronic devices while corrupting digitally stored data, posing a huge risk to financial institutions based in the South.
High altitude nuclear weapons are harder to intercept than weapons designed to strike targets on the ground and produce a giant wave of electrons which spreads outward through the Earth's magnetic field, creating an electromagnetic pulse which can, in turn, lead to surges of 10,000 volts or more within the electric grid.
UN sanctions, which the North Korean regime has dubbed "the dirty excrement of the reactionaries of history," have been ramped up over the past few months following a series of nuclear and intercontinental ballistic missile tests by the reclusive nation.
However, security and nuclear energy experts warn that the North may not yet have the technically capability to perform an atmospheric nuclear test, further amplifying the threat posed given the quantity of variables.
"We are talking about putting a live nuclear warhead on a missile that has been tested only a handful of times. It is truly terrifying if something goes wrong," Vipin Narang, a nuclear expert at the Massachusetts Institute of Technology said as cited by the AP.
For context, a nuclear blast at an altitude of 60 miles will affect a 700-mile radius which ups the ante significantly should the North decide to follow through on threats to exercise their military muscle in response to abrasive rhetoric from Donald Trump and increased international pressure on Pyongyang.
An atmospheric nuclear test would also pose a huge threat to aircraft and shipping in the region as the North Korean government is unlikely to issue prior warning.
"Although I am sure such a launch would be very alarming to people in Japan, there is little the United States or Japan could do," said Jeffrey Lewis, a US arms control expert at the Middlebury Center of International Studies at Monterey, as cited by AP.
You can share this story on social media: