US airstrikes on civilians & other 'chronic mistakes' led to humanitarian disaster in Raqqa – Moscow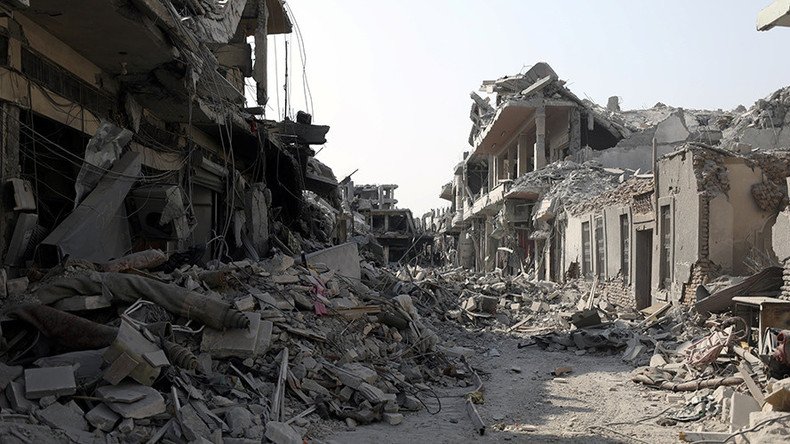 Repeated targeting mistakes by the US-led coalition have caused deaths as well as widespread destruction to Syrian civilian infrastructure, while a lack of aid and evacuation corridors has led to a humanitarian disaster in Raqqa, a senior Russian diplomat has said.
"We are witnessing a humanitarian catastrophe in Raqqa (as we previously saw in Iraqi Mosul)," said Oleg Syromolotov, who supervises counterterrorism cooperation with other nations for the Russian Foreign Ministry.
"It was caused by the lack of effective effort to deliver humanitarian aid and to create corridors for the evacuation of civilian population, not to mention the multiple 'chronic' mistakes of the US Air Force, including airstrikes hitting civilian sites," Syromolotov told RIA Novosti.
Raqqa, which has been de facto capital of Islamic State (IS, formerly ISIS/ISIL) terrorists, has been under siege by the so-called Syrian Democratic Forces, backed by US-led coalition airstrikes, since summer.
The city sustained severe damage during the operation, with hundreds of civilians being killed in the fighting and repeated misplaced airstrikes.
Human Rights Watch said last week that the US-led coalition "failed to take necessary precautions to avoid and minimize civilian casualties," blaming it for killing at least 84 civilians, including 30 children, in just two lethal airstrikes near Raqqa in March.
READ MORE: Enough evidence of civilian deaths, US self-investigation of Syria strikes insufficient – HRW to RT
Eliminating IS and other terrorist groups, including Jabhat al-Nusra, is currently "the most imminent task for the international community," according to Syromolotov.
However, he pointed out that US actions leaves an impression that it's not eager to see IS vanquished.
"We tell our American colleagues: we are offering you to coordinate of our efforts in fighting terrorists in Syria, but you reject it. Who benefits? Islamic State," he said.
The diplomat said Russia and the US only communicate to avoid potential conflicts over their respective military operations in Syria.
American attempts to hamper the anti-terrorist efforts of Syrian government forces is another indication of Washington's unwillingness to put an end to IS, Syromolotov noted.
"This is an absurd situation, in which a foreign force, present on Syrian territory illegally and without consent from the government of Syria, starts imposing some geographic boundaries for the Syrian Army, which is fighting to free its own country from terrorists," he underlined.
Syromolotov was apparently referring to repeated incidents in which the US-led coalition targeted Syrian troops and allied militias either by "mistake" or for allegedly 'threatening'"partner forces" inside what the US presumptuously claims to be its zone of control in Syria.
READ MORE: Damascus urges UN to stop US-led coalition 'war crimes' & to expel alliance from Syria
The government in Damascus on Thursday called on the UN Security Council to pressure the US, so that American troops would stop "systematic" airstrikes targeting civilian infrastructure in Syria. The Syrian government reiterated that the US presence on its territory was illegal.
You can share this story on social media: