Majority of French say Macron policies 'unfair' – poll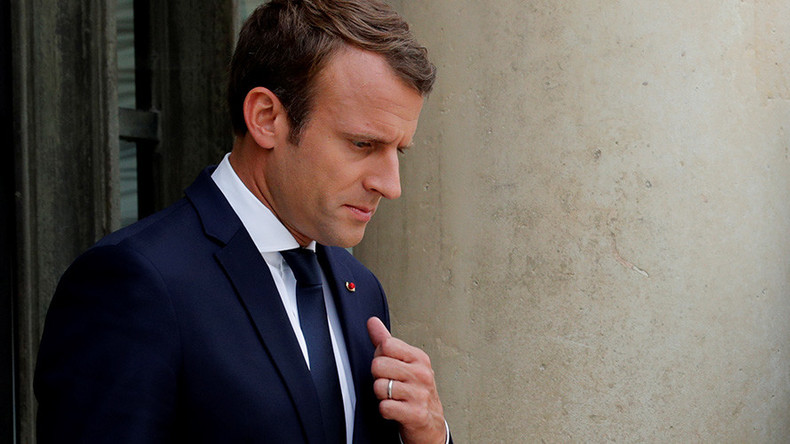 The majority of French people say the policies of recently-elected President Emmanuel Macron are "unfair," a recent poll reveals, adding that more than a third consider the actions of the French leader "disappointing."
READ MORE: Macron's approval rating nosedives to 30% in latest poll
The Elabe online poll – which surveyed a total of 1,001 people on September 26 and 27, four months after Macron was elected – was published on Wednesday.
According to the survey, at least 69 percent of respondents consider Macron's policies "unfair." Nearly 6 out of 10 French people believe that the president's policy in reviving the economy "is not effective" and "will not improve the country's situation."
Meanwhile, 39 percent consider Macron's actions "disappointing," showing that the popularity of the new leader has rapidly declined following his landslide presidential and parliamentary wins.
Just over two-thirds – 68 percent – of respondents said that Macron follows his campaign commitments, while 45 percent believe it's too early to evaluate the leader's policies after his first 100 days in office. Only 16 percent said that they were content with the performance of the 39-year-old leader.
Macron's ratings seem to have dropped significantly since his election earlier this year . According to a YouGov poll released in early September, less than one in three French voters are satisfied with his performance.
As with his predecessor, Francois Hollande, Macron has attracted criticism for his proposed labor law reforms which would make it easier for companies to hire and fire workers. The reforms prompted waves of protest, with activists saying that the new leader is failing to represent people. The rallies often ended with property damage and clashes between police and demonstrators.
In August, Macron's government began the final round of talks with trade unions on liberalizing the country's labor laws, which the government hopes will reduce the 9.5 percent unemployment rate.
READ MORE: 'King of slackers': Fury after Macron brands labor reforms opponents 'lazy' ahead of mass protests
Earlier in September, Macron was harshly criticized for branding opponents of the labor reforms as being "lazy." Quickly dubbed the 'King of Slackers' on Twitter, the French leader was undeterred, however, saying he has no regrets and aims to move the country forward.
Earlier this week, Twitter exploded with sarcasm after Macron reportedly told a former political rival, Jean-Luc Mélenchon, that "the king was elected four months ago," apparently referring to his election victory in May.
You can share this story on social media: