Toxic promise: US vows to destroy its chemical weapons... despite being 5yrs behind schedule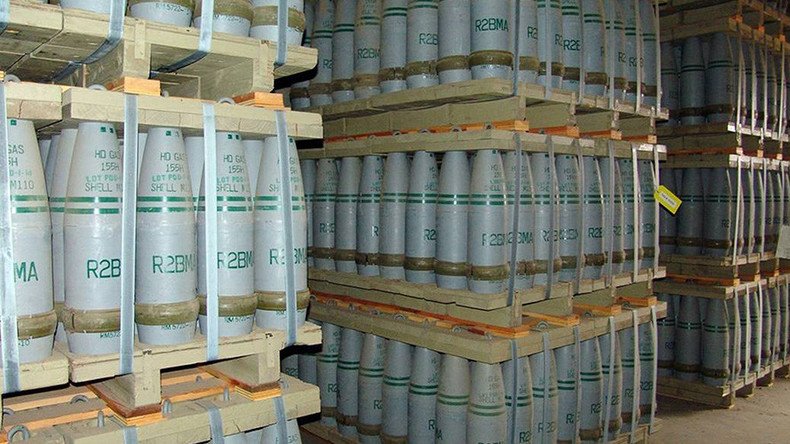 The US is already more than five years past its initial deadline for eliminating its chemical weapons arsenal, but doesn't plan to complete the job before 2023. Russia, which had a similar amount of toxic agents, has just destroyed them all.
The US and Russia both declared some 40,000 tons of chemical weapons when they joined the Organization for the Prohibition of Chemical Weapons (OPCW) in the late 1990s
The Americans pledged to destroy their stockpile by the end of April 2012, but still have two sites storing toxic agents, the Pueblo Chemical Depot in Colorado and the Blue Grass Army Depot in Kentucky. As of 2015, the Colorado site had about 780,000 World War II-era artillery shells containing 2,611 tons of mustard agent. Their disposal is expected to be completed by 2019. The site in Kentucky stores over 500 tons of sarin, VX and mustard agents. A disposal facility there is scheduled to go online next year.
Washington's failure to fulfill its obligation was highlighted on Wednesday by Russian President Vladimir Putin, as Russia eliminated the last few artillery shells filled with chemical weapons.
"Historically, Russia was one of the largest holders of chemical weapons and the US remains one. Unfortunately, the US is not observing the deadline for disposing of its chemical weapons. They have pushed the date back three times, citing a lack of funding. This, frankly, sounds strange," Putin said.
Responding to the Russian president's criticism, a US State Department spokesperson said the country is committed to completing the disposal of chemical weapons by 2023.
"The US government continues to focus on destroying the remaining portion of the chemical weapons stockpile stored in Pueblo, Colorado, and Richmond, Kentucky," Sputnik cited the unnamed US official as saying. "The United States remains committed to the complete destruction of its declared chemical weapons stockpile by the end of 2023."
The OPCH, the watchdog of the 1993 Chemical Weapons Convention (CWC), marks its 20th anniversary this year. Currently, 192 nations are parties to the convention, with the exceptions being UN members Egypt, Israel, North Korea and South Sudan. Myanmar was the latest nation to join in 2015.
You can share this story on social media: