Once posh Deir ez-Zor hotel serves as Syrian army fortress in push against ISIS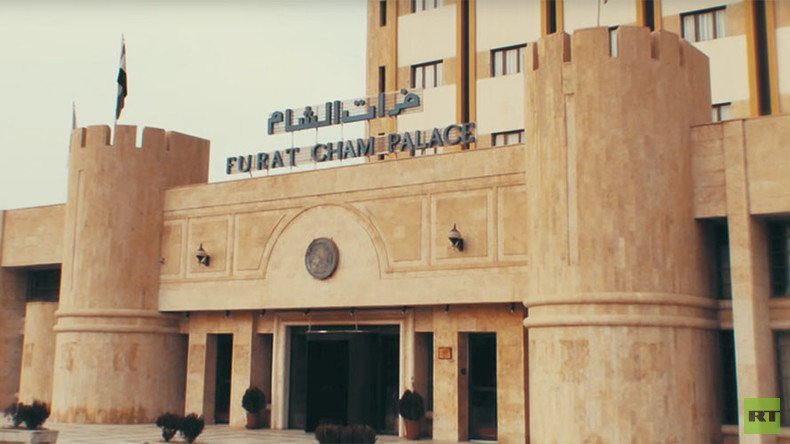 The Syrian army has thwarted ISIS attempts to cross the key Euphrates River from what was once a luxurious hotel in Deir ez-Zor. RT's Murad Gazdiev's report from the bullet riddled outpost shows just how close the enemy still is.
A garrison of the Syrian Army has fought off Islamic State (IS, formerly ISIS/ISIL) terrorists for three years from the Furat Palace Hotel in Deir ez-Zor. The siege of the city was recently lifted by Syrian government forces supported by Russian air power.
The hotel-turned-fortress had been repeatedly shelled by IS and even now – with the city's blockade lifted – the terrorist group is just across the Euphrates river, on the banks where the hotel is located, Gazdiev reported.
"From the onset – coming up to the roof was very dangerous, because of the snipers. It was really bad. But when the [Syrian government] army broke the siege – they fell back," a Syrian soldier told Gazdiev, as they were standing on the rooftop of the hotel.
IS militants are still targeting the outpost from the eastern side of the Euphrates river, Gazdiev reported.
READ MORE: Russian military defies constant shelling to build bridge across Euphrates in Syria (VIDEO)
On Tuesday, the Russian military said it had built a bridge across the Euphrates River, not far from Deir ez-Zor, despite coming under constant shelling.
The bridge can be used for delivering humanitarian aid and military equipment as well as evacuating the injured, as the Syrian army strives to clear other areas of IS terrorists near Deir ez-Zor.
With the lifting of the siege earlier in September, something of a race between Syrian government forces and the US-backed Syrian Democratic Forces (SDF) began, with the end goal of seeing who will be the first to liberate other parts of the oil-rich Deir ez-Zor province.
The SDF has since rushed to make advances towards the Eastern side of the Euphrates.
The city of Deir ez-Zor had been under tight blockade and constant shelling from terrorists for over three years, before the Syrian army supported by the Russian military smashed the siege.
During the IS blockade, locals received aid and supplies only through airdrops.
"We fed our children with stale bread, cleaning the mold from it. We have long suffered from artillery strikes and shells; they usually hit civilians – children and women in particular," a local woman told RT, as residents described the horrors of life under siege.
The Russian defense ministry recently said at least 87 percent of Syria has been liberated from IS.
You can share this story on social media: