Russian military defies constant shelling to build bridge across Euphrates in Syria (VIDEO)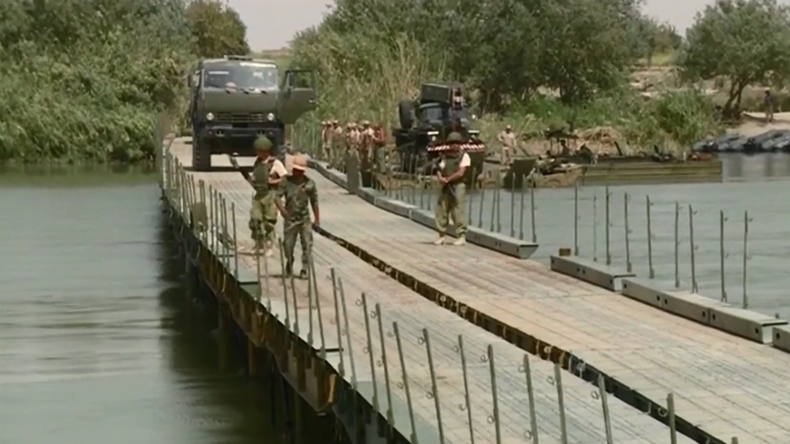 Russian military personnel have built a bridge across the Euphrates River, not far from the Syrian city of Deir ez-Zor, in less than 48 hours despite coming under constant shelling, a Ministry of Defense official said.
"A panel bridge was erected in less than two days, despite constant shelling," the head of the road service of the Russian Defense Ministry, Vladimir Burovtsev, told journalists on Tuesday.
READ MORE: Russian MoD releases Idlib airstrikes footage, denies targeting populated areas (VIDEO)
"Drones were deployed. During the installation work, explosives and grenades were falling on us. Nevertheless we have no losses, neither wounded nor killed. Everything was erected on time," he added.
The total length of the bridge is some 210 meters (689ft), according to Burovtsev.
READ MORE: US security services behind Al Nusra offensive in Syria's Idlib – Russian MoD
The bridge can be used for delivering humanitarian aid and evacuating the injured. It can carry the weight of heavy armored vehicles, including tanks, infantry fighting vehicles (IFV) or multiple launch rocket systems (MLRS).
The city of Deir ez-Zor, once of one of the largest in eastern Syria, is slowly recovering from the Islamic State (IS, also known as ISIS/ISIL) siege, which lasted from 2014 and was lifted by Syrian government forces with Russian air support in early September.
The lifting of the Deir ez-Zor blockade triggered a race between legitimate Syrian government forces and the US-backed SDF umbrella group to control the oil-rich province.
Before the siege was lifted, the city had been under a tight blockade and constant shelling from terrorists for more than three years. The residents were able to receive supplies solely from the air, through airdrops by military cargo planes.
According to recent data from the Russian Defense Ministry, some 87 percent of Syria is now free of Islamic State terrorists.
You can share this story on social media: