'We won't know who's behind ISIS, as answers would lead to legal responsibility of those forces'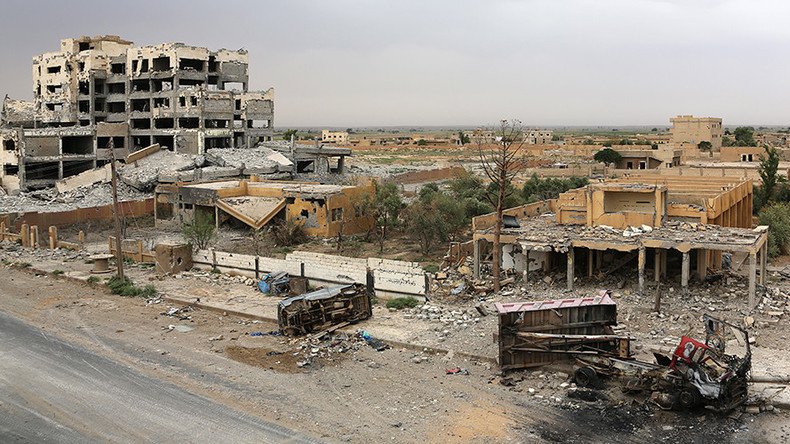 In the international order we have, we will never have clear answers on which international forces brought ISIS fighters to Syria, and are guiding them, Daoud Khairallah, professor of international law, told RT.
Russia's Ministry of Defense denied claims made by Syrian Democratic Forces (SDF) that it is targeting its positions to the north of Deir ez-Zor.
Russia countered the allegations with extensive footage of its latest strikes. Earlier this week, the Reuters news agency published an article claiming that Russian strikes had hit US-backed rebels in Deir ez-Zor province. Opposition forces alleged one of its fighters had been killed and two others injured, calling it a "treacherous attack."
The Russian Ministry of Defense refuted the report, saying their strikes took place at confirmed terrorist locations. It also released satellite images showing US Special Forces, and their allies camped inside former ISIS strongholds.
The US-led coalition says the accusations made by the Russian Defense Ministry, which suggests a deal may have been struck with ISIS, are false. However, Washington refused to comment any further.
RT: Russia is suggesting the Western-led coalition is colluding with ISIS. Do you think that is the case?
Daoud Khairallah: It depends on how much evidence there is for this. It wouldn't surprise me, considering the history of the war in Syria and the role the foreign forces are playing…which is totally against the basic principles of international law well-anchored in the [UN] Charter. When someone is lacking legitimacy in what they are doing, they will resort to distortion.
ISIS has done a lot: they invaded Palmyra twice, and the second time was under the watchful eyes of the American coalition's air force. So it is not very surprising. Those who have evidence that there is a certain help to the terrorists and certain protection… this is something that should come out…
The problem is that parties on the international arena where we live feel they have to have control over international public opinion. When you have empires of corporate media that you can control, you will feed the public whatever image, whatever information you want to give them …
RT: The US-led coalition has moved into areas previously held by ISIS without any fighting taking place between ISIS or the Western-led coalition. How would you explain that?
DK: … The conduct of these fighters, whoever brought these fighters to Syria, would probably feel a certain responsibility for their future and for what is going to [happen to] them. Where would they go; would they go back to Europe, or back to countries where they came from, and what they will do there…And God knows who these foreign forces are; who is guiding them; who are their officers; where they came from. All these are issues that, unfortunately, in the international order that we have we will not have answers to because the clear answers would lead to some major legal responsibility on the part of whoever contributed and caused them to be where they are.
RT: There has been a joint fight against ISIS with the Western-led coalition and also Syrian forces and Russia. How damaging is this latest episode to the common fight against ISIS?
DK: I think the international community, and for a good reason, decided that terrorism is a threat to the world, to the international community. To be effective in fighting terrorism, you need to have the cooperation of all the international forces and effectively control…how to make this area totally peaceful and totally stable, and eliminate terrorism altogether… Unfortunately, some forces are coping on their own and don't want to be involved in effective cooperation in getting rid of ISIS, Al-Qaeda, and other organizations - all Al-Qaeda derivatives …
You can share this story on social media: