Red alert: Vanuatu island evacuations after volcanic eruption (PHOTOS, VIDEO)
Published time: 26 Sep, 2017 13:00
Edited time: 27 Sep, 2017 08:03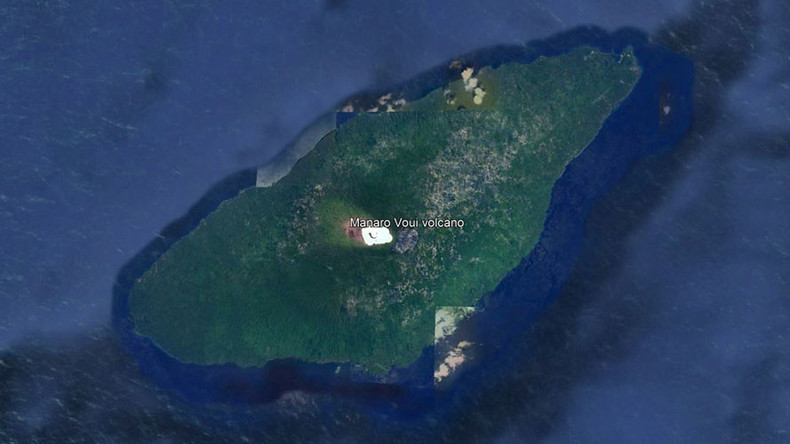 People living on the South Pacific island of Ambae were evacuated from within a 6.5km (4 mile) radius of a volcano after it erupted, spewing rocks and noxious gases.
The Manaro Voui volcano is part of Vanuatu, a nation of 80 islands west of Fiji.
READ MORE: Up to 35,000 evacuated as Bali on high alert for volcanic eruption (VIDEO, PHOTOS)
According to the local geo-hazards department, increased activity was observed at the lake-based volcano last Saturday.
The agency raised the threat to level 4 and warned that villages surrounding the mountain could experience "unusual volcanic hazards" like flying rocks, ash falls and acid rain.
A National Disaster Management Office spokesperson admitted it's difficult to predict what will happen next.
"There's ash, fire, stones and lava being thrown out from the mouth of the volcano," Shadrack Welegtabit told the Associated Press. "There's a lot of activity going on."
A member of the Vanuatu national parliament, Ralph Regenvanu said a state of emergency was declared on Ambae Island on Monday.
A government hazard map reveals that scores of communities on the 398 km sq-island could be in the path of catastrophic lava flows.
READ MORE: This is why Mexico keeps getting hit by earthquakes (MAP, PHOTOS)
Ambae Island has an estimated population of 11,000 people.
RT.com has contacted the Vanuatu government for further comment.