3 Israelis killed by Palestinian in gun attack near Jerusalem (PHOTOS, VIDEO)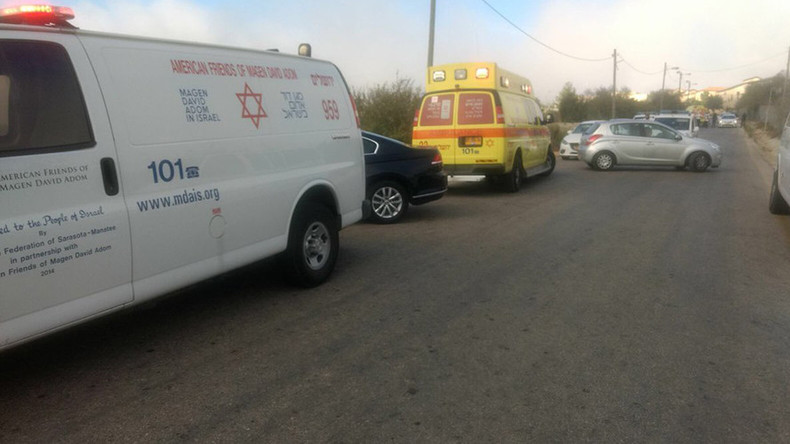 Three people were killed and one severely wounded after a gunman opened fire at an Israeli settlement in the West Bank, 10km from Jerusalem, according to officials. Police say the assailant was a Palestinian who opened fire on Israeli security officers.
The incident took place near Har Adar, northwest of Jerusalem, Magen David Adom (MDA), the Israeli national emergency service, said on Twitter.
MDA paramedics pronounced dead 3 men in 20s and 30s. The fourth victim is a 32 year old man. He was evacuated 2 Ein Kerem in severe cond.

— Magen David Adom (@Mdais) September 26, 2017
The attacker approached the entrance of the settlement with a group of Palestinians who work there, the Times of Israel cited police as saying.
READ MORE: Israeli policewoman killed in ISIS-claimed stabbing attacks in Jerusalem
He "aroused the suspicion" of security officers who were opening the back path of the settlement. The assailant then grabbed a gun and opened fire at Israelis, police added.
Initially, paramedics said they were treating four patients, three of whom were in critical condition.
READ MORE: 3 Palestinians shot dead as protests rage in Jerusalem – Health Ministry
Later, the three wounded, "men in 20s and 30s," were pronounced dead. The fourth patient, a 32-year-old man, was evacuated to Ein Kerem hospital in severe condition.
READ MORE: 2 killed, 6 injured in shooting attack in Jerusalem
The attacker was "neutralized" at the scene, MDA added.
The assailant was a 37-year-old man from the Palestinian village of Beit Surik, 2km from Har Adar, Israeli Army Radio, operated by the Israel Defense Forces (IDF), said, adding that the man had a work permit.
A wave of street attacks carried out by Palestinians has recently hit Israel and the occupied West Bank.
Tel Aviv blames the Palestinian leadership for inciting the violence. The Palestinian Authority in the West Bank denies the accusations.