Eurofighter jet plunges into sea at Italian air show, killing pilot (VIDEO)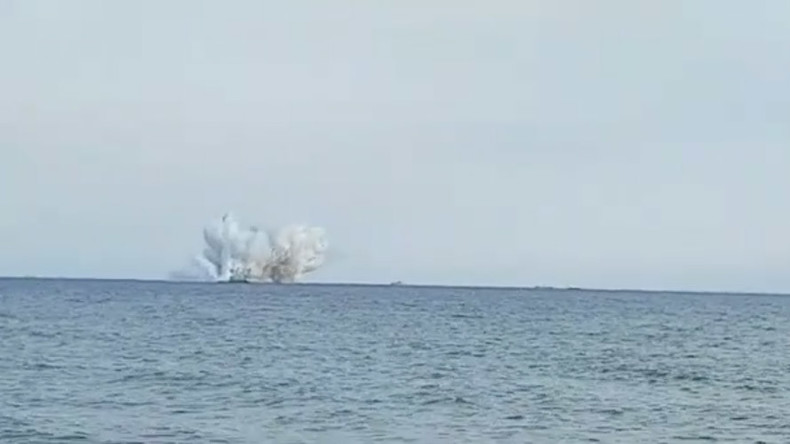 Spectators at an air exhibition near Terracina witnessed the shocking death of an Italian Air Force pilot, after their plane plunged into the sea during a risky aerobatic maneuver on Sunday.
Captain Gabriele Orlandi, 36, was piloting a Eurofighter jet in front of crowds at Terracina Air Show, in the Italian region of Latina, when the tragedy unfolded.
The twin-engine jet is used primarily by the UK, Germany, Spain and Italy.
Footage of the incident shows the pilot attempting to complete a midair loop before the military aircraft nosedived into the sea.
The incident occurred in the final stage of Orlandi's performance. The reason for the crash has not yet been determined.
According to the Italian Air Force, Orlandi's body has been recovered and an investigation into the incident is now underway.
Il mio cordoglio alla famiglia del Capitano Gabriele Orlandi. È una perdita dolorosa per i suoi cari e per tutta la Difesa.

— Roberta Pinotti (@robertapinotti) September 24, 2017
Defense Minister Roberta Pinotti and Air Force Chief of Staff General Claudi Graziano both expressed their sadness at Orlandi's death.
"Captain Gabriele Orlandi's family has the support of all the Defense staff and my staff. I'm close to the Air Force, who live this sad moment of mourning shared by all the armed forces," Pinotti's statement read.
Following the accident, activities at the air show were cancelled and the event organizers said the death on Sunday afternoon "deeply marked us".
"To the family and to the Air Force, our most heartfelt condolences," a message on the Terracina Air Show Facebook page read.