Ecuador will extend Assange's asylum over fears for his life - President Moreno
Published time: 24 Sep, 2017 11:42
Edited time: 16 Apr, 2018 14:11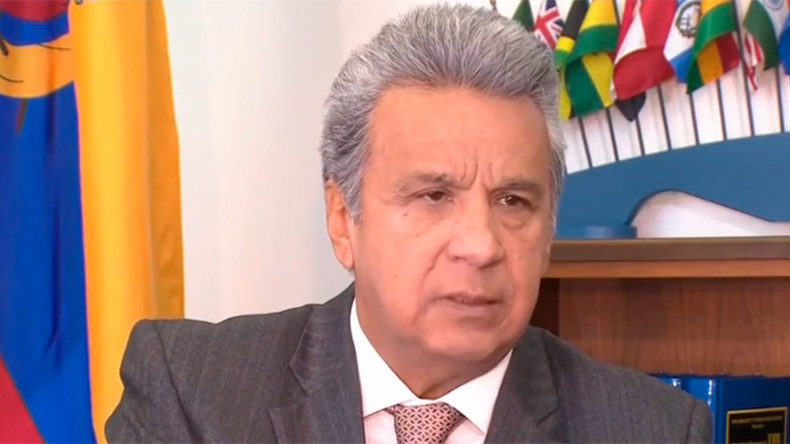 Ecuador has decided to extend the political asylum granted to WikiLeaks founder Julian Assange amid ongoing fears for his safety.
"Ecuador decided to provide political asylum to Assange because it thought that his life is in danger and Assange thought the same," President Lenin Moreno said speaking to RT Español.
"There is no death penalty in Ecuador, so our country has the right to grant asylum to Assange. We will continue to give him patronage for as long as we assume that his life may be in danger."
READ MORE: 'Even US doesn't call me a hacker': Assange hits back at Ecuador's new president
Assange has resided in the Ecuadorean embassy in London since 2012, after seeking refuge there to avoid extradition to Sweden over rape charges.
Swedish authorities withdrew the allegations earlier this year, however, UK police said Assange would still be arrested if he left the embassy because he had broken the conditions of his bail and failed to surrender to authorities.
Moreno noted that his government has urged Assange not to comment on Ecuadorian politics, which the Australian has ignored.
"He continued to express his opinion on this issue and we let him to do that in order to avoid restriction of freedom of speech, but we earnestly urge him to abstain from that," Moreno said.
In May, Assange tweeted that WikiLeaks will publish evidence of corruption in Ecuador if it receives it.
In the interview, Moreno also discussed his country's relationship with Russia saying Ecuador needs to "get a lot closer to countries like Russia." He thanked the Russian government for allowing thousands of Ecuadorian students to study in Russia.